if you are tempted by big, beautiful, voluptuous girls, you will be happy to have come upon FattyChaser.com. However, this hookup app is not what it presents to be. We have discovered a number of ways in which it tricks its customers into buying more than they need, and we will elaborate them here in the following sections.
Authenticity
A very important fact which is worth mentioning at the very beginning is the presence of the name of the company that has been on Adult Dating Patrol's scam list so many times before – Bulova network. If you follow the tag among the reviews, you will see what other sites are related to Bulova. It is not only FattyChaser.com. You will recognize this fact as soon as you compare the features and the design.
Why is FattyChaser.com a Fake Hookup App
Here are the reasons why we've placed FattyChaser.com among the fraudsters:
FattyChaser.com Uses Virtual Messages Called Activity Alerts
Here we see the scammy element of the fraud called "Activity Alerts". These alerts are what you will find on other false dating sites but under varied names – love stars, fantasy cuties, online cupids, emissaries, ambassadors etc. In fact, they are a nasty combo of marketing communications, software-generated messages and fake profiles or virtual bots, made by the same software method.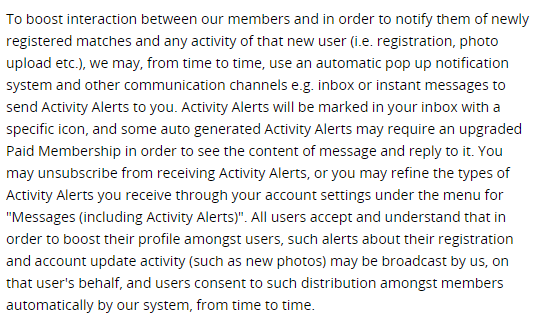 Date Boosters Serve Only to Sell Same Hookup Platforms More Than Once
You will read more about the Date Boosters in the next section. For now, here is a link to the snapshot of the relevant provisions in the site documents: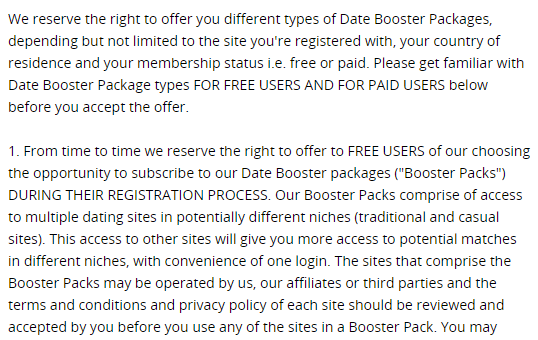 FattyChaser.com Provides Promoted Messages to Manipulate Upgrades
Let's hope that you are not an easy prey to fall for a nice design and no substance. Otherwise, you will get into the hands of scammers who wrap their tricks in nice paper and put an even nicer ribbon. When you don't have the time to read about the Terms of Use in detail, read here to get a short version of the scam in these reviews. Just check the options for selling on FattyChaser.com – you need to pay for SMS services, for Date Boosters and for Promoted Messages: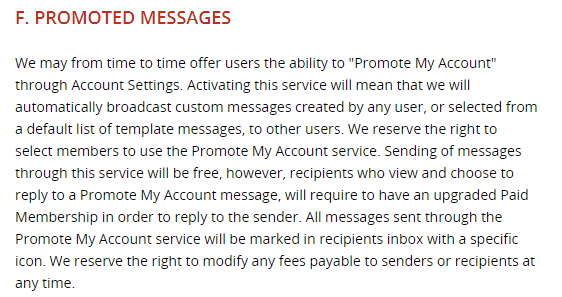 SMS Costs That Lead Nowhere
Stay on your toes – not only will you chat with virtual profiles, but you will also pay for the messages! On FattyChaser.com, the basic subscription is not the only cost. You also need to pay for non-refundable SMS tokens. They are not calculated or included in the same basic monthly membership, but they must be paid as an additional cost.

Price Tag
$4.07 for a three-day trial
$35.64 for a one-month subscription
$59.97 for a three-month subscription
$93.86 for a six-month subscription
Busted or Trusted?
FattyChaser.com is a commercial platform and an illegitimate hookups app that has nothing to do with real dates. It only finds new ways to sell you its ridiculous features. Regardless of what you decide to buy, you will be damaged. It's best if you don't spend a minute longer here.