Escoreal-Highclass-Escort is one of the leading German adult companion websites, connected with multiple European and worldwide directories. From the features and the design on this escort service, I can guarantee one thing. These dates are not going to come cheap! The directory has around several dozens of escort girls with exclusive names. Each has her own link on the site! The photos are quite spectacular and the babes are hot. To illustrate what I'm talking about, have a look at some of the pictures taken in the following Escoreal-Highclass-Escort review.
Escoreal-Highclass-Escort.com: Hookup Locations
Here are the available cities in Germany to find a girl: Regensburg, Berlin, Dusseldorf, Frankfurt Am Main, Hamburg, Munich, Stuttgart, Nuremberg, Würzburg, and Leipzig. I guess this makes sense if you travel there unless you want to pay for plane tickets! Do you know how much will that cost you? Thousands! Include overnight pricing into that and the costs will be a gold mine for the girls and the site. There are 32 girls in total, which makes Escoreal-Highclass-Escort pretty exclusive – Luisa, Casting, Clara, Sasha, Jolena, Marie, Valeria, Victoria, Eva, Jana,Giovanna, Stella, Kristina, Samira, Mila, Julia, Lucy, Melina, Mona, Beatrice, Gloria, Alessandra, Sara, Isabella, Fiona, Alina, Ana, Lily, Vanessa, Grace, Natalie and Lena.
How to Book a Date (Do You Really Want To?)
This Escoreal-Highclass-Escort review assured me that no matter how hard you try to guarantee that all bookings online are legit, there is no way to do it with 100-percent surety. For example, this escort directory has a proper contact section, including a phone number, an email, and even proper business hours from 9 to 5. You can book a girl by writing an email or filling out a booking form. But – hold on – before you do that, did you read the booking rules? You see, this is where a number of problems could arise.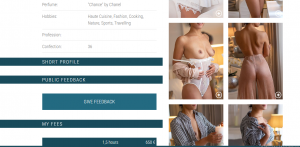 The first issue for which I advise extreme caution is the 33% deposit you can make upfront or in person to the girl when you meet her. This is the worst risk for customers who rely on discretion, and in the end, understand that the provider was a huge rip-off. Since most escort directories must be based on discretion, it is an excellent excuse to fraud poor users. They have nowhere to turn to for help once they've been subject to a fraud.
Escoreal-Highclass-Escort.com has one way to check feedback for the girls, but it's a one-way form submission. Other users have no way of seeing who said what and make a decision on user reviews. So, I guess your experience will be on a case-by-case basis – a risky business!
Costs on Free and Commercial Dating Platforms
Here are the costs for the exclusive escorts and for the "passionate" escorts, which are obviously cheaper, whatever that means. As you can see, the prices are spectacular, and these are only the basic fees, without additional gifts and unforeseen commissions.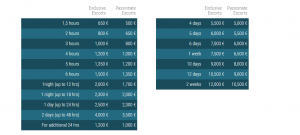 Another way to get more money from users is to become a VIP member and get an overall 15% discount on all services: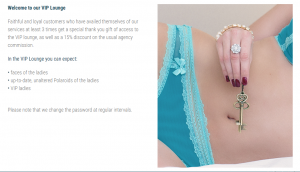 Escoreal-Highclass-Escort Review Conclusion
Judging from the photos of this website, the number of models, and the mentioned fees, this service has no resemblance to free dating sites. The locations are German, but the girls travel worldwide, too. That is – if you are ready to pay for all that! My typical audience is not looking for humongous prices just for some hot babe to show interest in possible sex. Free adult dating sites are a hundred times better option for casual hookups. You just need to know how to use them. Here is some practical dating advice and stats for better success!
Oh, and if you're looking for something that's actually free, well, then you best head on over to your local Costco or BJs Wholesale in search for the free samples in the aisle because that's all you're going to be getting for free, period.