Though we think we know all and understand how dating life works, there are situations when those beliefs get seriously shaken. And there is nothing better than the cold, hard numbers to tell the truth about some facts we take for granted. Therefore, we took a look at some of the most popular beliefs men and women have about dating and researched relevant adult dating statistics to see how much of that is actually true.
Here are what we've discovered – have a look at these 5 statistics and let us know how surprised you are about what's going on in the world of adult dating:
The chances a man has lied about the number of women he had sex with in order to protect his reputation are 1 in 7.1.
Okay, we get it. The male ego can be a fragile characteristic. So – this wasn't a big surprise. If you find yourself among those men that claim to be way more successful in bed than they actually are – relax. You are not alone. This number just testifies that most men are human and not what we hold them to be – superhuman pornlike deities.
The chances an adult thinks it is better to be single and dating than to be married are 1 in 5.6.
Well – what can we say here? Does married life really rocks that hard? Or is it all about the regular sex people are getting that makes them in favor of tying the knot? Perhaps is all about the type of people includes in this particular survey! From what we know on this review site, people are quite happy single and dating, and won't mind keeping that status for a while!
The chances a girl says she won't date a man who is shorter than she is are 1 in 2.
This number is a confirmation that absolute truths are often only half-truths. Only one in two girls doesn't like dating short men. Fifty percent of the girls you meet will actually consider dating shorter men. Such a fact obviously goes against the popular belief that women never like dating short men. If you consider yourself short, it's time to rejoice and reevaluate your hookup prospects.
1 in 7.4 adults has had a threesome.
If you need some simple maths to get a better presentation of this number, let us help you. 1 in 7.4 translates to roughly 13 percent. That means that 13 out of your 100 college dorm roommates have actually had sex with two people at the same time. It's quite a nice number and one that sheds a positive light on how are the success rates for people who like to try threesomes and have never had a chance to do so.
The chances an unmarried person looks mostly for physical good looks in a potential date are 1 in 4.6.
One in five persons gives priority to good looks. It's a nice refreshment to hear that you don't need to look like Chris Hemsworth in order to get laid on adult dating sites. You can be quite average looking and still land a decent number of dates if you hone your other not so obvious skills.
If you prefer seeing facts and numbers in a visual way, here is an infographic you can use to have a quick look:
Infographic: 5 Surprising Adult Dating Statistics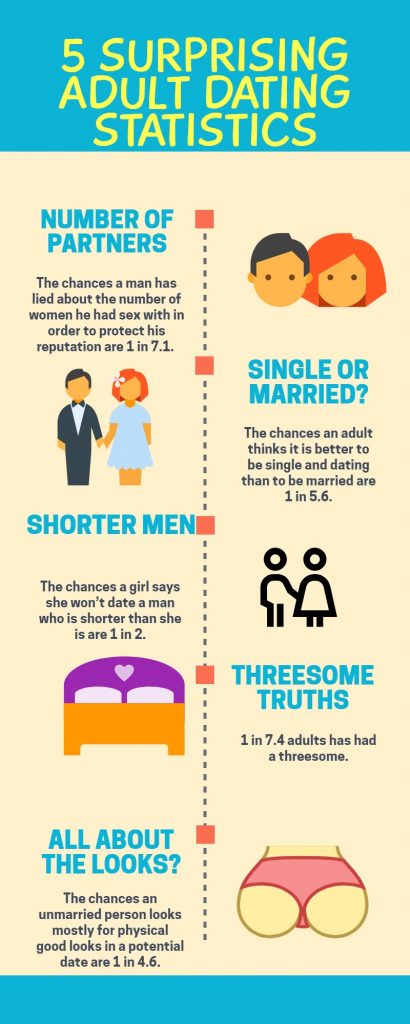 We hope that these numbers and facts give you a new perspective to online dating and that you'll be able to enrich your sex life with new possibilities. One way to have more hookups is to make a profile on a good dating site and start chatting with interested others. Tell us about your success in the comments!