if you belong or if you think that you belong to the successful elite then this review is for you. Many businessmen often get associated with models. This site is no different. It actually carries the tag "For the successful elite." That's how we hear stories of scams and frauds in the newspapers. Business people have a lot of smart insights and clever moves as far as business is concerned. But when it comes to the matters of sex they can be quite gullible. If catwalk models are your weakness read more about how exclusive escort agencies do the hiring process. Then you will know is if the dating method explained in the Catwalk Model Escorts review is at all for you.
Catwalk Model Escorts Review: Fishy Discreet Encounters
Many successful CEOs, leaders, or bosses don't really care how much they spend on dating. They can be negligent and fall prey to call girls, escorts, and fraudulent types who manage escort agencies.
That's why it's even more important to make a difference between casual dating sites that are genuine and the rip-off of escort directories. Although Catwalk Model Escorts promises that you will get a discreet encounter, there is no proof that it actually works. On the other hand, it's very expensive.
If money is not a problem for you, you may disregard this factor and just go for it. But there lies the catch. Is there is no proof or a way to check authenticity, you'd better stay away from an escort agency! I couldn't find any reliable evidence about Catwalk Model Escorts. That's why I don't recommend it at all.
What People Say: Catwalk Model Escorts Reviews
Why I don't believe the user reviews on catwalk model escorts? There are several reasons. You can catch the unrealistic testimonials. It looks like they're from bosses and people on executive positions who gave their full name.
Do you really think that someone who looks for discreet casual sex would give their full name to a website? Yeah, me neither! They don't give their full names – these are merely fabricated testimonials.
Masking Rip-offs with "Exclusive" Packages
In the elite, sometimes paying more for a service can actually be more attractive. Exclusivity means that you're one of a kind and that you get to date the top girls. Usually, businessmen think along the lines that luxury girls provide fewer dangers and risks than streetwalkers.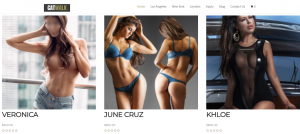 Although the price and the type of service definitely play a role, you never know who you are dealing with on an online escort dating platform. Here are the fancy names Catwalk Model Escorts uses to cajole subscribers into creating an account:
Elite Package

Diamond Package

Gold Package
Creating an account is also a warning factor. It's usually associated with asking for credit card details and payments scams.
Key Reasons Not to Trust CatwalkModelEscorts.com
Following my Catwalk Model Escorts review, the reasons are pretty simple:
No evidence the site is real

No evidence that the models are really who you are going to meet

Online dating platform with an account creation

Dubious user testimonials.
I don't need any more proof. Do you?
I didn't think so, but if you need more help finding hookup sites that don't scam you or cost an arm and a leg, then you need to check out this list here.