If you're looking for genuine dating opportunities, you should definitely not search for them on escort websites. There are plenty of problems you can encounter by hiring call girls, especially if you are in an unknown area such as another country. So if you're traveling to Manchester and thinking of taking the risk to date a call girl, you'd better think twice! These girls are independent contractors and the website you're visiting Candy Shop Escorts is only a platform for placing advertisements.
There are thousands of ways to become a prey of something or someone you have no clue about in a foreign country. Let's find out the dangers and the risks of dating escort girls from the content of this Candy Shop Escorts review.
Candy Shop Escorts Review: Manchester Call Girls
Manchester is an alternative dating location for UK visitors. It's not like London, where escort agencies are affluent.  But it's still one of the biggest cities. Plenty of people from across the world visit the town and many tourists are interested in getting laid when on holiday.
The problem is with falling for fake information on escort websites. Many times, the uploaded content is totally fake, the classifieds are not real, and you can get scammed in plenty of ways. The agency acts as a recruiter but doesn't do actually any admin stuff on behalf of the girls. Girls take care of the business themselves.
Therefore, although you see some rules of the game on the website, the girls can play differently. You should always check what you're getting yourself into with the girl in question. As a general rule, I don't recommend dating escort girls at all because of all the dangers that come from meeting these chicks who do anything with anyone.
Horror Stories from Candy Shop Escorts Reviews and Other Fake Classifieds
Since the girls manage their own content they send submissions of photos and profile descriptions directly to the website. The website publishes these submissions and visitors take a look at the girls' profile, deciding whether they want to hire her. From what I see on the website, most of the photos are photoshopped (just like this site). They don't look at all like they're giving the real picture of what these girls look like. I get that the girls would like to look as good as possible.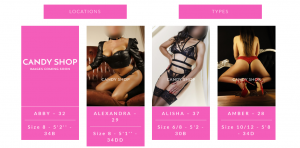 However, this is only marketing. You should keep your eyes open and lower your expectations for the actual meeting arrangements. I've heard horror stories about girls that don't look at all like the one on the picture or a totally different girl showing up in place of the one that you were promised.
CandyShopEscorts.co.uk: Rates
Don't you think that paying 1,000 British pounds for a night out is a bit over the top? Also, be very careful when you specify the services because extra requirements can cost more. You should always know what you get yourself into and ask all relevant questions beforehand.
| | |
| --- | --- |
| RATE | OUTCALL |
| 1 HOUR | GBP 140 |
| 2 HOURS | GBP 280 |
| 2 HOURS (BOOKED IN ADVANCE) | GBP 240 |
| 8 HOURS | GBP 750 |
| 12 HOURS | GBP 1,000 |
| ADDITIONAL HALF HOUR | GBP 70 |
| ADDITIONAL HOUR | 140 |
| DINNER DATE | 350 |
This is definitely not my cup of tea at all. I couldn't imagine paying that much for getting laid. I can always find a girl on a free adult dating website!
Why Paying for Sex on Candy Shop Escorts is Out of the Question?
To wrap up arguments against using Candy Shop escorts, here are the short points of my opinion about it: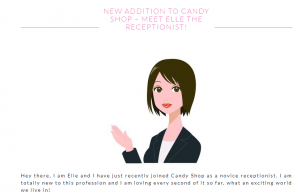 Unrealistic pictures

Fake profile descriptions

No promises and no guarantees about service delivery

The fishy booking process, STDs, and all that kind of crap coming from dating escorts

Rip-off rates

Even the receptionist photo is an avatar!
Do I need to continue or this is enough for you to make a decision?
Look, if you want to hire an awful escort, then that's your choice. However, I'd strongly suggest not doing so and just joining a site that works instead.