This small agency is about premium escort services in Paris. Paris has that all-time romantic vibe and escort agencies use it to advertise total girlfriend experiences. Having in mind that the site is underdeveloped, there is not much content and that the number of girls is really limited, I doubt that you will have a greater escort experience with this agency. Still, I explored the site and wrote this Bonjour Escort review to see what the girls are like. What other information is there to help you get laid while in Paris?
Bonjour Escort Review: Real or Fake?
As mentioned, that agency says it uses 21 escorts. That's a nice sexy number which I'm not sure it is true. For instance, the model gallery includes around 10 to 12 escorts. Most of them look like the teen girls. You know the type – tiny frame and tight bodies with fresh looking features. If there a genuine, they look really nice and sexy. However, I couldn't find any assurance that these pictures are real.
One of the more credible features on Bonjour Escort is the contact details. Each girl has a phone number and the general contact of the agency. This means you must communicate through the agency to get in touch with the girl and pay a commission fee. Think about it: this puts extra costs to the service if compared to individual contractors. Not that I recommend hiring individual call girls because you will also pay expensive rates without knowing whether you will get what you asked for.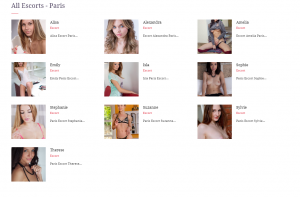 The biggest problem is the absence of clear rates. Evidently, you get to learn them once you communicate with the girl. This approach can be a source of all potential troubles and scams. I'm not in favor of using escort agencies that disclose rates. I'm even less in favor of escort agencies that keep their rates secret. Therefore, I strongly advise to keep away from Bonjour Escort and use one of the cost-free adult dating sites.
Bonjour Escort Reviews of Blog Content
Not only that I couldn't find user reviews but there is one very weird looking blog.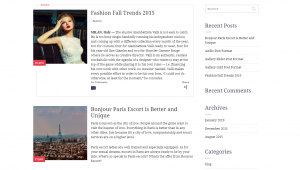 The content is all over the place. For example, there is one post addressing the advantages of the Paris dating life. Another speaks of the perks and benefits of Bonjour Escort. Then, all of a sudden, the next blog jumps to fashion posts and talks about Giambattista Valli's fashion show. I'm not sure whether this content is somehow related to the association between models and escorts. But it's really dampening the good start with the escort- related content on the blog.
Keep Away from Bonjour-Escort.com!
My final decision is that you need to stay away from this escort agency. You won't have any guarantee about the authenticity of the girls. They don't disclose rates. There are no clear conditions about how to make a booking on the site. Above all, the site looks scammy and it won't provide a great experience. You should take a tour on genuine dating sites that don't charge money or even explore a reputable escort site. You will notice the difference is that I'm mentioning. Once you see how easy is to get laid on casual hookup sites, you'll never go back to escort agencies!