45PlusContact.com is a Festivus Media company. This is a famous fraudulent company that works with paid credits. Needless to say, this is a scamming tactic by itself. But that not's all – you also have to deal with fictive profiles and computer-created messages that are sent for entertainment purposes. Let's look into how the scam works.
Why is 45PlusContact.com a Casual Hookup Scam
The scam is obvious just when you read the testimonials on the front page and the advertisements from the site. This front page is saying that it takes care of profiles that create unsafe opportunities. If you encounter someone who wants to trick you, you are great because 45PlusContact.com will protect you. Are safety and reliability really so important to this scamming website?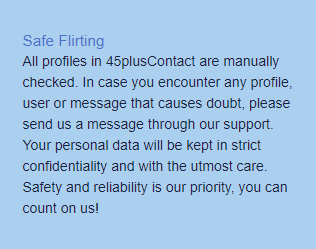 Sending Computerized Messages to Naive Users
These messages are developed by software. The packages on this website work like smooth oil – the site plays with fictive profiles that are fake women made to resemble the real deal.Normally, their cute and sexy pictures are just the bait. And when the real action needs to happen, they send the computer-generated messages to activate and engage the users.

Fictitious Profiles for Entertainment Purposes
Can you really find women over 45 here? Yes, you can find all types of women, if you want to date fake ones! Although you see real women if you judge by the pictures, the truth is that it's so rare to meet others that you will remember this site as a scam forever!

Price Tag

Busted or Trusted?
Since you must buy credits to become a member of this site, you will never be free to use it except for browsing and looking profiles. And are those profiles anything but fictitious? Our lucky guess is that there are none. But, if you think otherwise, go for it, and tell us your experience in the comments!