You know the convenience of texting and typing with smartphones. Messages got shorter, words got a new meaning, numbers became words, just to help people spend less time on long sentences and save time. Just as the modern lifestyle orders! Short sexting is particularly appreciated by people who like quick hookups and like to find them online from the convenience of their homes. Those are exactly the people who need to stay safe from 2Fuck4Free.com. Let's find out why.
Authenticity
We must admit that the name is quite inventive for adult dating websites, although not necessarily for online searches. However, that is about it. The originality stops there. All other features and tools are the same as many other sites we have reviewed. These scammers don't even have the decency of putting a new interface to put a special stamp on 2Fuck4Free.com. Welcome to yet another online dating scam that is now spiced up with boring pictures and the same fraudulent methods for getting new victims: fake profiles, automated subscription, and faulty safety.
Why is 2Fuck4Free.com a Fraudulent Dating Website
You must agree to the policy of using fake profiles at the registration stage. Let us take you through the communication process in a bit more detail. You register, and your inbox gets some interesting, juicy texts.
You will chat with fabricated girls that send automated messages.
If you are not only used to reading Terms & Conditions in more detail, you may not even notice that you are dealing with fake women. They lure you in all the way to the stage for arranging a real date when you find out that they don't even sound normal! Here is a quote from the site: "Our LS work for the site in an effort to stimulate dialogue with users and to stimulate user participation on the Website and Services, advertisement of the Website and Services, and the creation of user profiles. The LS also monitor user activities and communications to ensure compliance with our Terms and Conditions. You understand, acknowledge, and agree that the information, text, and pictures contained in the LS profiles do not pertain to any actual person or member, but are included for entertainment purposes only."

You must provide a credit card for pre-authorization.
By this point, it will become clear that you are not getting out of 2Fuck4Free.com without an upgrade. It will be especially costly if you don't notice the pre-checked boxes for additional services on the side. We are regularly amazed about the catchy nature of free memberships. They are like glue for online dating scams. Even in modern tech, they keep working wonders for fraudulent providers.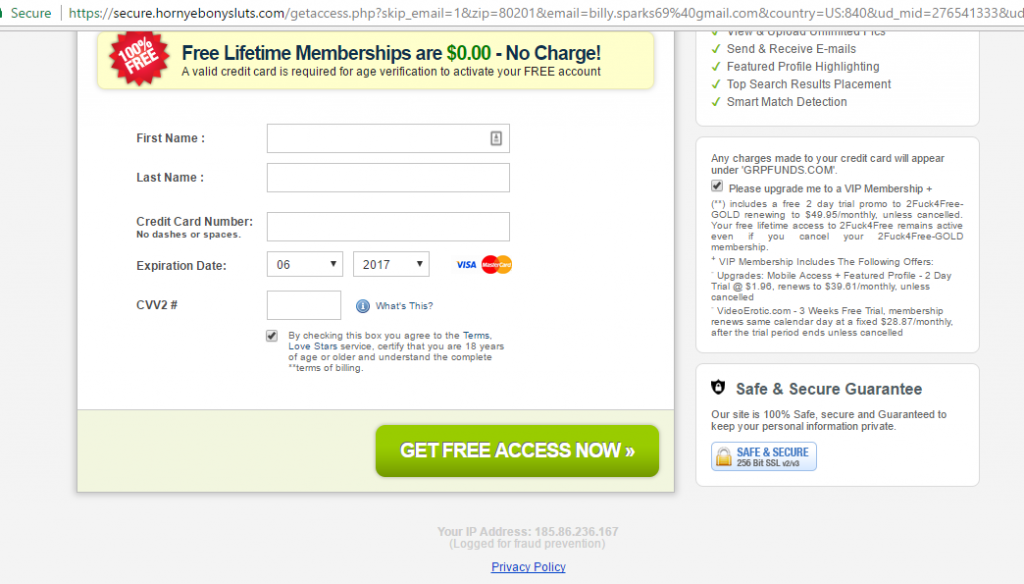 Extra services will cost you over a hundred dollars per month.
Mobile access is charged extra, as well as a video service. These tools normally come for free on most true dating sites. But not on 2Fuck4Free.com.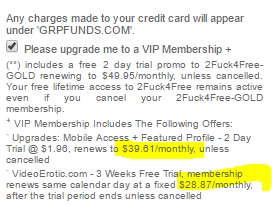 Price Tag
Basic monthly membership is $49.95
Mobile access is $39.61
Video Vibe Erotic is $28.87
Busted or Trusted
2Fuck4Free.com is just a great name without a lot of essence. We took a detailed tour of this site to see if the next big thing in scamming has original methods to it. Yet again, the human nature hasn't changed much and the same old trick is doing just as great as ever. Unless you want to finish as a rip-off trophy, stay as far as possible from this fraudulent business.