For UK escort agencies, this service is among the average. Compared to most other agencies and directories in the region, I'm not at all convinced that many people like it, even when they find relatively cheap services. Not to mention free dating sites! Nevertheless, if you are convinced that you still need to check it out, be my guest, but don't expect too much fun for free. In fact, as I often tell you, escort sites are not free and you can get yourself in additional troubles. What could that be? Let's find out in this UEscort review.
Traps Exposed in the UEscort Review
UEscort is mainly focused on locations in the United Kingdom. Or let me be more correct, its locations are in the top UK cities, you can't really find other countries unless the models are on tour.
Massages and Tours? What's Behind Them?
City tours are published according to a pre-planned itinerary. This is your chance to meet a famous escort and pay a lot of money. The fun fact is that the site puts so much attention on the city tours because they work! Users are more used to pay more when a girl is nearby for a short time. You know the drill, take it now or lose it forever! I suggest you don't fall into that trap before you investigate your chances to get laid for free! Many escort services are advertised as erotic massage because… you know! No one likes putting paid sex on a display when it's illegal. You can get into a lot of trouble with scams, STDs, and money going into the drain for nothing. Especially if they ask you to provide a deposit!
Models: Real or Fake?
As far as the models are concerned, they belong to all categories. So not only babes, but men too, and possibly anything in between! Pics look realistic, and although some of the chicks are too unreal, many have real photos and don't look like dolls. I guess that's the good side of the UEscort review – knowing that the providers are real, at least as far as the photos are in question.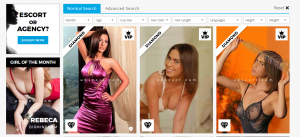 On the other hand, you can never tell if the same person will show up once you set up the meeting. That's a common practice of fake escort agencies. They upload hot photos and send you someone completely different!
Is UEscort Related

 

to A
ge

ncies?

I have grounds to believe that UEscort is an agency. From the overall advertising process and the website message to the locations, many facts speak in favor of this website being connected to an agency. I cannot say that for sure but I have my reasons to believe you will not only be paying for the escort services but also the agency commission fee. There are mentions of agency work in the articles, too. I always advise against paying for sex because you can get it for free! That's the reason for the existence of ADP and me doing this UEscort review.
UEscort.com Review: Sign-off
Before I sign off, I want you to take your own tour and make your conclusions if you have time. Who knows, you can have exciting times. But they will never be gratis! If you are looking for something else, check our guides for the best free hookup sites.
There is definitely something there that will catch your attention! If you're still not sure where to begin, then the best approach would be to head to the front page where you'll find the guidelines I've created.