ToyboyWarehouse.com is a pretty unique dating site for matchmaking for older women who like dating younger men. The site is not strictly for sex, but that is the preference.of most of the members. You can join for casual and for more serious relationships. So, there is a bit of fun for everyone, only if you below belong to the relevant category – you are either a toyboy or a mature woman. ToyboyWarehouse.com has placed the founder on the site to tell her story. Julia Million decided to set this hookup site to get in touch with what she wants in an easy and quick way.
Toyboy Warehouse Dating Review
As far as originality is concerned, ToyboyWarehouse.com is unlike any other casual dating website. It has a specific blog with advice, organizes meeting events and shares stories from members. There is a special category of users called Ambassadors. From the experience of Adult Dating Patrol, many other flakey sites for casual personals use the word for the diplomats to signify the virtual profiles. Whether this is the case, it is difficult to say. But, they are a unique site which is not associated with any other provider. At least,  a one-of-a-kind experience is guaranteed!
Why is ToyboyWarehouse.com a Real Dating Website?
Although the short tour is not a 100% guarantee that you will get laid and find genuine people here, it definitely shows some promising opportunities.
ToyboyWarehouse.com Organizes Events for Real Meetups
There is a special section on the site called "Events" which has information about London gatherings for the people from both categories – men that like older ladies and cougars, although they dislike calling themselves cougars. The events are with tickets and locations that are published on the site. You can buy the tickets via the site. Testimonials are good. How much of this is the truth, it is hard to tell. At least you can take that online dating up a notch and come to the meetup without jeopardizing your security. When there are so many people at one place, the dating gets a lot easier.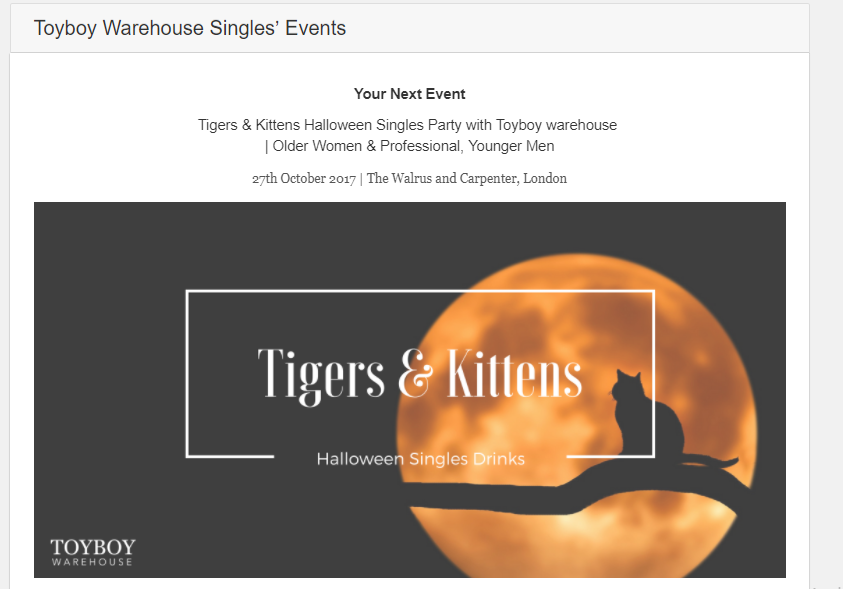 The Blog Advice is Good and Relevant
The advice from the blog posts relates to all dating categories. You will find some useful tips and tricks even if you are looking for more. However, the best fun for older women and younger men is exactly the sex part. So, plenty of good tips about that, too, you can apply in your life as a cougar or a tomboy. ToyboyWarehouse.com looks like a very pleasant place for finding someone for a one-night stand.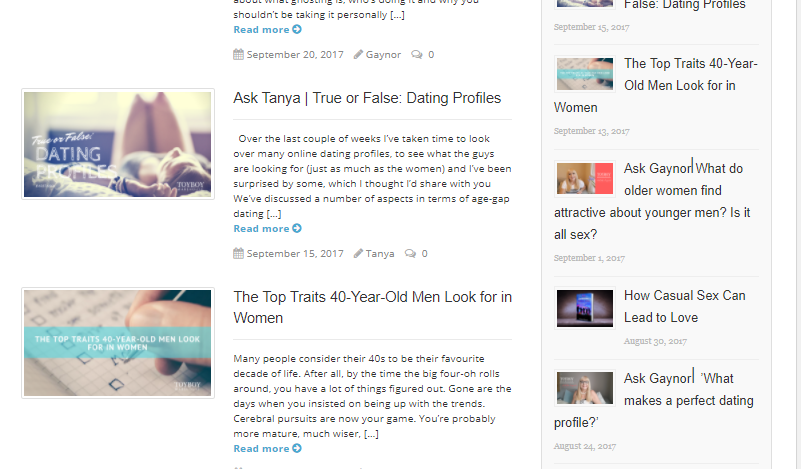 ToyboyWarehouse.com Protects Your Online Privacy
Many users are concerned about their confidentiality. As a matter of fact, that is one of the frequently asked questions. Users like to know if their profile can be found on Google. This is a totally legit question. Many fake dating websites fail in this respect and immediately look fishy. But, you have your guarantee on this platform. Moreover, the payments are discreet and coded, so your bank statement will have the charge just hinted with a code known only to you.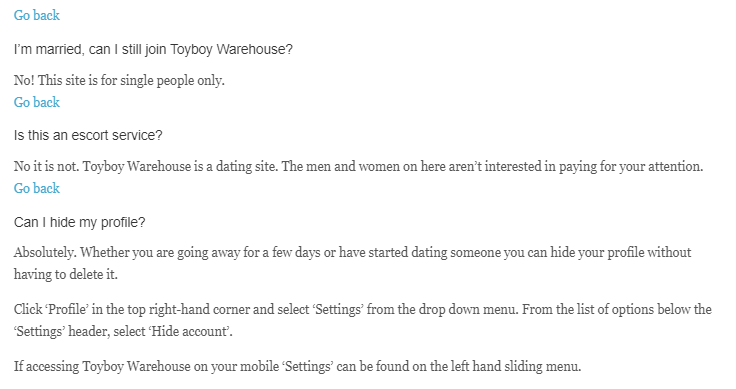 The Site Accepts Only Single People and Promotes Courtesy
Well, this is surprising for a site that offers casual dating among the rest, but I guess that there is a specific audience who likes this element. This is explained in the Terms and Conditions. Explicitly. Of course, no one can tell if all members respect the rule, but at least everyone knows the rules of the game and what to expect. So, if you are on the raunchy side and like getting into the saucy side of sex (or if you are not single) go for another resource, such as Milfplay.com.

Men get some serious advice to avoid BS, so decent and courteous behavior is recommended. Only until you get into bed, that is, you are allowed to play it dirty there for as long as you want!
Cost to Join ToyBoyWarehouse
Monthly membership is £12.49
Our ToyBoyWareHouse.com Review Summary
It seems that ToyboyWarehouse.com is a legit place – plenty of elements point out to having some great fun but also get into something more serious if that's what you are looking for. Share your experience if you tested this dating site for cougars and cubs, that seems softer than its rough name.