DateaCougar.com recently got everyone's attention. if you know a thing or two about getting popular on the Internet, you already know that you can get famous or infamous. Well, if you are wondering what are the reasons behind DateaCougar.com's popularity, it not that they have delivered some hot sexy milfs to their members. The reason may have more to do with unhappy users who were not aware how much was the real cost of DateaCougar.com.
Authenticity
We all know that hundreds of thousands of people like dating milfs and cougars – so, nothing new there! We also know that this is the main reason why so many sites for hookup personals pull off the mature woman prank to entice new people to join in on faulty adult dating sites. That is exactly the reason behind DateaCougar.com's fake profiles and expensive memberships. Even if you manage to find a chick and get laid here, it will cost you dearly. Be careful when you click yes on those credit card screens.
Why is DateaCougar.com a Fake Site for Hookup Personals
Here are our reasons for not trusting DateaCougar.com:
Your Privacy Becomes Ownership of DateaCougar.com
Whatever you upload on this dating website is no longer yours. You can say goodbye to the privacy of your photos and personal details. By signing up for the site, you have already granted a license to them to use your stuff in all possible ways.

Screen Third-Party Offers to Avoid Additional Rip-offs
When you browse through the services on the site, please be careful where you click. What applies to the main services is totally invalid for the third-party websites. You can easily end up getting ripped-off. In fact, that was one of the main reasons for the popularity of DateaCougar.com.

Protect Yourself Against Transaction Fees
If you are coming from abroad, make sure to check your bank credit card transaction fees for foreign exchange. Other currencies can cost you more than you have initially planned.

Watch Out for Prechecked Boxes
Here we come to the main reason included in the DateaCougar.com scam – you get the products with pre-checked boxes on the main screen. If you don't pay attention, your monthly membership will cost you way more than you have planned. It seems that rip-off dangers are behind every corner of DateaCougar.com!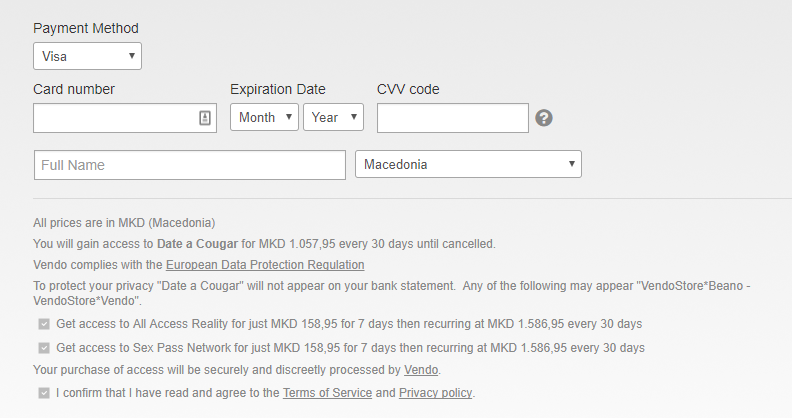 Price Tag
One month membership is $29.95
Three-month membership is $59.95
Twelve-month membership is $149.95
Busted or Trusted?
Well, if you need additional conviction after this last screen, go online and search for other reviews of the site. DateaCougar.com pulls off a really insidious fraud with this method. They have deservingly had poor feedback from customers and bad reputation. Stay tuned for more news to come about similar scams!