SnapRendezvous.com is a French name for the same type of sites that we've been investigating for a while now. Only the name is original, the rest is a scam that shouldn't be trusted. By the way, the meaning of the name in French is Instant Hookups. But if you think that's what expects you here, don't hold your hopes too high. As usual with this platform of copied websites, we are uncovering all bluffs by SnapRendezvous.com.
Why is SnapRendezvous.com a Deceitful Hookup Site
The essence of this scam is the automated popup notification system that builds an impression of an active website. The company that owns the network doesn't stop for a moment. It works with the same scheme, re-creating it by leaps and bounds and luring new users in. Let's find out more about what this crooked service does and uncover its rotten dealings.
Operates with a Group of Companies
The problem with the copycat companies is that they sometimes change the name. However, if you follow the way they hoax users, check the design templates, and read the site documents you'll for sure clarify what they do much faster than before. When you investigate fraudulent sites, don't just look for the name of the company. Pay attention to all of these elements and you'll become an expert private eye for such sites. Group companies are with an identical layout. The differences are in the details. This is important to know because SnapRendezovus.com claims that the duplicates support members. In fact, quite the opposite is true, which will become obvious a bit further below.

Automated Pop-up Notification System Called "Activity Alerts"
What would any fake hookup site do without false women? Most fake women show up in pop-ups in the member area, but also in emails and in SMS chats. The site uses all possible methods to populate this area and engage customers, so be extra careful. The popups are called "activity alerts", and the messages are called promoted and custom messages. In any case, these women are not real. You'll know that sooner rather than later when you get them and – you won't be able to respond without upgrades.

Triple Charges with the Booster Packs: Guess How! 
The Date Boosters are described as some sort of support for better dating chances. SnapRendezvous.com says that if you get the booster packs, you'll get better chances of finding a date on the other sites. But  – did you forget that the other sites are the same and have the same membership base? So you'll have no better chances of getting laid. But you will pay the triple price if you decide to opt for the three-sites membership.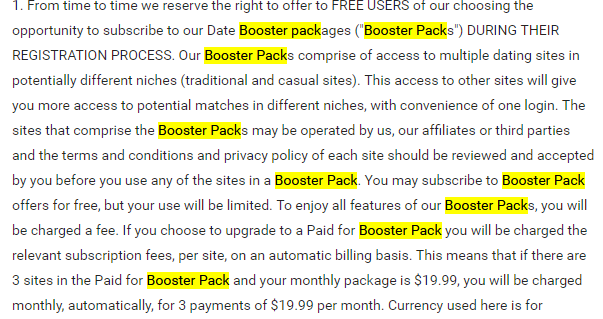 Price Tag
$4.07 for a three-day trial
$35.64 for a one-month membership
$59.97 for a three-month membership
$93.86 for a six-month membership
Busted or Trusted?
We've provided enough evidence to inform you how SnapRendezvous.com applies dodgy tactics to take more money by charging triple memberships. It's up to you to decide whether you want to waste your time on futile memberships.