Today we are uncovering the tissues and the lies that is called  ShagCity.co.uk. This adult dating website is evidently a world-class bunch of fraudsters and has taken many people for a ride. Don't let them hook you because later you will not be able to contact them and cancel your registration. Nobody will reply and you will have to get in touch with the bank. Let's see why.
Authenticity
I couldn't call this site authentic even if it was the end of the century. There are so many reasons for raising my doubts, and people all over the Internet agreeing with that is just one of it. I just hate these virtual profiles because they are included in almost 90% of the fake dating websites. On top of that, this site really sells credits and subscriptions in a new way – by charging extra for messages. No wonder it has produced so many unhappy people that want out and their money back!
Why is ShagCity.co.uk an Adult Dating Scam
Third-party links are not covered by the site's provisions.
Beware the partnering sites because they may play a totally different music than the main provider – just check what you are getting into:
"Connective Development B.V. may receive traffic from third parties in exchange for a fee or for free. Such third parties are solely responsible for their ads, content, and links in which they use on their website to send traffic to Connective Development B.V."
You must purchase extra credits for sending messages.
To send messages you need to buy a credit bundle. There is a pricing chart and it sure is on fire. Communication on ShagCity.co.uk is pure luxury. Why on Earth would you join a site if you couldn't communicate in the basic offer? And now even some extra costs!
The site uses fabricated fantasy profiles.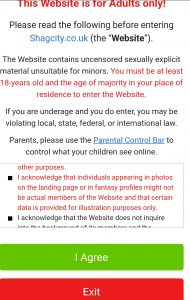 Fantasy profiles are fake profiles. Fantasy profiles are fabricated profiles. Fantasy profiles are virtual profiles and fake women whom you have no chances of meeting. They are engaged by the site and work for the site. They are not voluntary members, not real people. Good luck if one of these has managed to make you pull out your credit card. Here is an excerpt from the site documents:
"You are aware and agree that we may use moderated and fictive profiles for online adult entertainment purposes. We expressly reserve the right to send messages to this site by self-created profiles. Physical contact with these fictive profiles is not possible. We deny ourselves of all liability to the extent that is allowed by the law and we assume no warranty for any kind of damage or inconvenience caused by our Service."
The online community has multiple poor reviews for ShagCity.co.uk.
Moreover, most people like to leave the site and the reviewers don't seem to have enough time to create all guidelines for removing your membership from this fraudulent website. And the complaints don't seem to end soon enough! I've read terrifying stories of people who have been duped with thousands of dollars and I really wouldn't want to see that happening to any of our followers here. Just check what Google says about ShagCity.co.uk: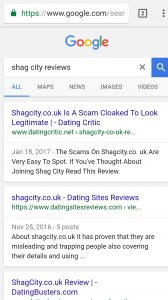 Price Tag
Costs for credits
Price    Credits    Price per message
£ 5    3    £ 1,67
£ 15    10    £ 1,50
£ 35    25    £ 1,40
£ 65    50    £ 1,30
£ 120    100    £ 1,20
£ 200    200    £ 1,00
Costs for Premium membership
£ 10    1    £ 10 per month
£ 24    3    £ 8 per month
£ 39    6    £ 6,50 per month
£ 49    12    £ 4,45 per month
But wait, there's a catch!
"Transactions are charged by our Payment Service Provider. We calculate the actual transaction costs when purchasing a bundle. We charge £ 0,50 for each payment."
Busted or Trusted?
Now that I've elaborated the undeniable facts that you need to check before you join ShagCity.co.uk I think we agree on the final conclusion about this site – it is a rip-off method for naive newcomers. Hopefully, you believe, and if you don't I hope you won't go and check these aspects yourself by providing your card details to the site. There are poor chances of meeting someone there. The site is very expensive and with additional costs.