It promises to be so much more than it actually is. The premium offer at NoStringsFun.com is presented and advertised as a special package, when it only includes regular devices, such as: sending and replying to messages in all shapes, providing contact information in the messages, placement in priority search results, free XXX content, unlimited profile and image visits and clicks, as well as priority handling and indicating on the profile. It sounds just like a regular promo, right? Indeed, it is but it comes spiced up with a few fraudulent moments.
Authenticity of No Strings Fun
There are several things to be very concerned on at NoStringsFun.com, the two main including virtual profiles and lack of privacy protection. Your privacy on an adult dating website should be intact, and not endangered to the extent that we had to spend an hour checking all bits and pieces that can pose a risk to your private sphere. Here is what the risk check-up can incorporate:
Collecting information
Use of your info by NoStringsFun.com
How is your info disclosed
Guidelines when you are dealing with others' details
Password rules
How to review and change your personal info
How third parties collect your information
Security technologies
Profile updates and deletion
Opt-out regulations
Why is NoStringsFun.com a Fraudulent Dating Website
Computer-generated content by NoStringsFun.com.
Similarly to what others do, NoStringsFun.com will send content from virtual profiles and make you agree to them annoying you, just before you register on the site. If you don't agree – you are out of the membership! This should be the red flag for many users. Still, they either don't notice that warning or just agree to be scanned even after considering the fact. Here is how that looks on the registration screen on the landing page: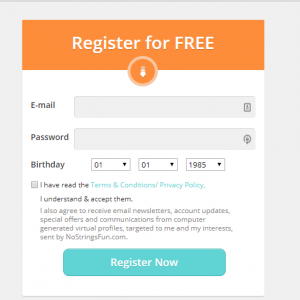 It imposes more than enough duties with your membership.
Keeping your password safe and sound.
Examining the Terms of Service as frequently as possible to confirm that all rules are the same
Reading and exploring the messages in your inbox each day
Forbidden to share your enrollment, nor, rent, give, lease, or exchange your signup with someone else
Consent to a wide range of public reactions
Sticking to the contract duties consistently.
Acting in accordance with all laws.
Acknowledging restrictions that can come out of your conduct.
Your premium membership is renewable flexibly, but only at NoStringsFun.com convenience. 
In fact, once you give your Mastercard, Visa, Amex or Diners, you also provide confirmation that you want your subscription renewed the next time it needs to be done. What's critical here, is that you may miss seeing that the cost itself, the included service and the duration of the subscription may change. Along these lines, regardless of the fact that you have consented to month to month rebilling, by changing different components, the total amount can increase and nobody will be there to let you know. Here is a clarification of that section as explained on NoStringsFun:

Price Tag
I have serious issues with the fact that the main currency for the fees presented is euro because this can impose additional exchange costs.
6-month subscription is €99.95
3-month subscription is €59.95
1-month subscription is €29.95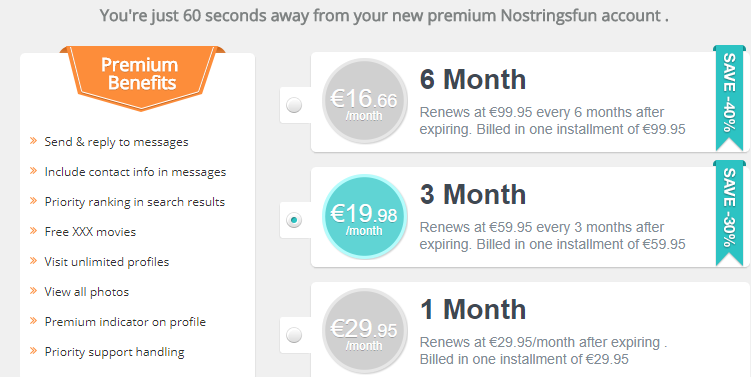 Busted or Trusted
With such a huge number of advanced scam techniques, the surprise of NoStringsFun.com success is obvious. The site won't offer free hookup possibilities since you risk privacy and overpay the offer, with virtual profiles cajoling you into high charges not nearly as low but significantly higher than competitors. Take it with a grain of salt and search for dates somewhere else. While privacy risks might be a lesser wrongdoing than what we are used to see here at Adult Dating Patrol, cash blackmail is the customer's worst scenario. And subscription with no refund is as bad as cash blackmail.