You may hope that you will get options for a sexy chat via SexMessengerMac.com because the name indicates so. It also indicates that it is somehow related to Macbooks, giving false hope to customers who may hope to join a top-quality messenger service from the rank of Mac, but end up nowhere close to that standard, ripped off and without a possibility for a hookup.
Watch out for the branding spin in the name of this fraudulent dating site that uses several factors to fake a dating service and make you fall into the scam trap.
Authenticity
It is obvious that SexMessengerMac.com includes plenty of reasons for anyone to become suspicious of its activities, right from the start. You will notice the first wary fact at registration – virtual profiles, and as the time goes by, you will find more and more reasons to disbelieve that this dating site is authentic and made with the purpose of social hookups. At least that is what I did.
Make sure that you read the small print and the provisions of the Terms & Conditions and the Privacy Policy. However, if you don't have the time, you should just rely on the opinion from reviews, and this is the point where an experienced dating pro jumps in to help you save valuable time and find the right dating resources.
Why is SexMessengerMac.com a Scammy Dating Site
1. SexMessengerMac.com has an automated email subscription.
I really "love" these sites that state free service, then ask for your credit card and automatically sign you up for a dozen services and upgrades and afterward expect that you go and manually check or uncheck each initial subscription that you find suitable or necessary. This is way too fishy for me, particularly when the list checkboxesxes includes fake profiles agreement and several promotional offers: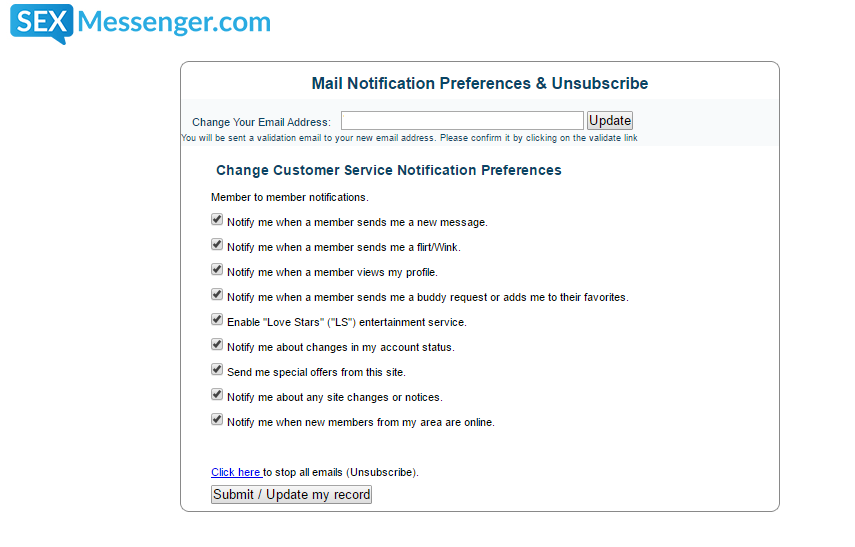 2. The site uses "Love Stars" as virtual agents.
It is obvious at registration that you must agree to participate in communication with fake profiles made by the site to engage users and lure them into an upgrade. Moreover, you can only cancel the subscription later, when you are a site member. So, you provide personal data for free, and you may only hope that you are vigilant enough to avoid alternative scammy methods.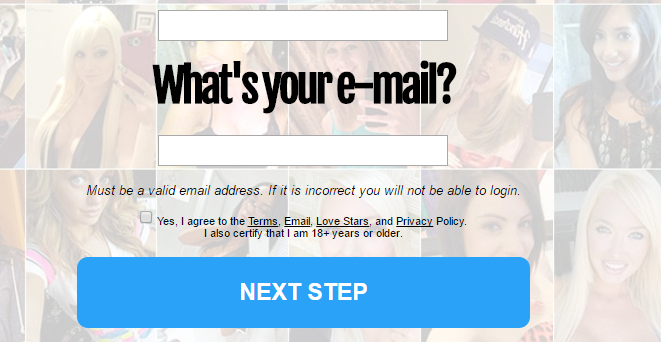 3. Possible unwanted upgrades.
Just watch the small print here and make sure that you avoid the same tactic on another place. The screen as you see it shows up pre-filled, claiming that it charges no fees and only asks for your credit card data for verification purposes. However, the small checkbox on the side is already checked, and if you are in a rush, you may fall prey to this really classic scammy trick.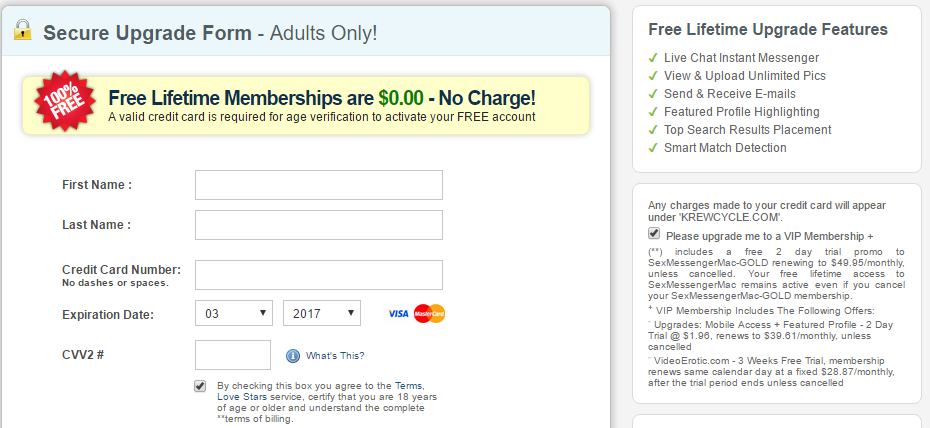 4. Incorrect numbers for the matching members.
Regardless of the location that you are registering from, there are always over a thousand prospects hoping to meet you that match your criteria. It doesn't matter whether you are coming from a larger city or from a smaller town, the number is always the same. This fact indicates that SexMessengerMac.com only plays with numbers to trick you into an overly enthusiastic mode, promising excellent hookup possibilities.

5. No prior communication about the Terms & Conditions updates.
If you expect that changes in the provisions on SexMessengerMac.com will be communicated to you in advance so that you decide if you want to stick to this site, you are plain wrong. The site expects that you inform yourself of the changes by staying on top of all news by regular visits to the site. Sounds like a "no deal" to me! Always be on guard with changes in the T&C documents because they may include anything.

Price Tag
Gold Membership
2-day trial promo to SexMessengerMac GOLD for $1.96 renewing to $49.95/monthly, unless canceled.
VIP Membership
Mobile Access + Featured Profile – 2 Day Trial @ $1.96, renews to $39.61/monthly, unless cancelled
VideoErotic.com 
3-week Trial, renewing on the same calendar day at a fixed $28.87 per month, unless canceled
Busted or Trusted
If the five facts above are not enough for you to bring your own conclusion about SexMessengerMac.com, then let me remind you of the works of most fraudulent dating sites included in these reviews and their typical scammy practices – no privacy, no security and virtual profiles.
Evidently, more than one criterion is met so that anyone with a bit of common sense will conclude that not everything about SexMessengerMac.com is as crystal clear as what we are used to seeing on genuine dating services. I would advise exploring the site on your own with caution.