Sites that sell credits don't bring too much value and trust to online dating. When they also use fantasy profiles, such as SensualSeekers.com, we guarantee that you are in for a scam. These fictitious profiles are made for entertainment purposes and will not give you some thrilling experiences to look forward to. Unfortunately, this is not the only site that works in this way.
Why is SensualSeekers.com a False Hookup Site
The fabricated women are called fantasy profiles and they show up just as you join. This is the screen on this website that shows up on the front screen.  While you are contemplating the tricks behind this scam, maybe it's time to think of some better places to spend your time, such as these in our legit dating sites guide: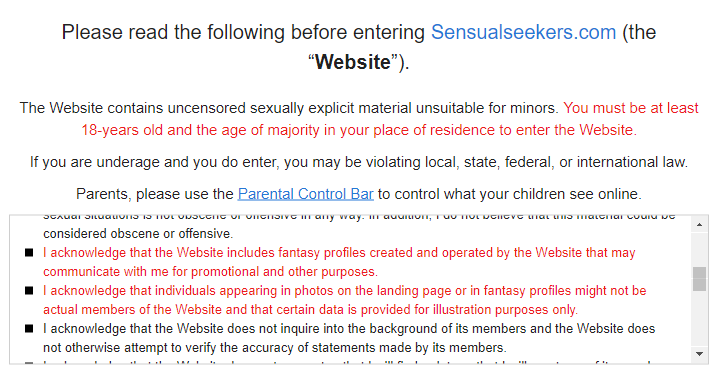 You must agree to the use of the fantasy profiles or you are out. So, you won't be able to access any of the features in case you decide that you don't want to hang around false profiles of women!
Commercial Services – Credits that You Must Purchase to Send Messages
If the site charges credits for the services it provides, we are instantly suspicious! SensualSeekers.com is loud and clear about this – you must buy credits to be able to communicate. The problem with the credits is that they are non-refundable, they lose their validity once 12 months expire and you won't ever know how much you've spent until you get the full amount get in the drain!

Fantasy Profiles Only for Entertainment Purposes
The fantasy profiles resemble real women. You won't be able to tell the difference until you find out that you're being duped. That becomes clear once you try to schedule a date – none of these fake women will reply because they are – fake!

Computer-generated Messages for Tricking Users Into Subscription
Of course, they won't be able to do anything unless they don't take any action. Fantasy profiles and computer-generated messages are a match made in heaven. you can give them various inventive names, but the essence behind them is always the same. In order to look like real persons, fantasy women flood your inbox with sexy chats, although they don't have anything to do with real women. But, how would users fall for the scam if they are not made to believe that the fake ladies are real?

Price Tag
10 credits for 10 messages that will cost you $23,99 or $2,39 / message.
25 credits for 25 messages that will cost you $54,99 or $2,20 / message.
50 credits for 50 messages that will cost you $98,99 or $1,98 / message.
100 credits for 100 messages that will cost you $179,99 or $1,80 / message.
200 credits for 200 messages that will cost you $349,99 or $1,75 / message.
Busted or Trusted?