I found this Punter Planet review pretty unique. It consists of sections that describe the average content of a paid escort site. But they do it with more flair and, if you are a newbie, you won't instantly pay attention to some of the dirtier tricks. Punter PLanet is less aggressive than the average escort site out there and is much softer than some of the adult dating scams I've reviewed previously on Adult Dating Patrol. A quite decent suspicious territory I'd say. So open your eyes and read this Punter Planet review to learn more about the obstacles that can get in your way.
The Flip Side of Punter Planet Reviews
Here is what this site is all about:
Escorts And Social Media

Melbourne Escorts Ads

Escort Advertising

Escort Classifieds
These are just the most common features since I've also discovered digital candies with great prices and no essence, such as blog content and guides to how to advertise if you are an escort. Be careful when you follow the instruction in this sections because they always ask for a fee, be it as small as $10 to $80 AUD for a classified ad or thousands of dollars for paying a call girl service.
How To Read a Punter Planet Review
Most escort site reviews should be impartial and submitted by genuine users who had some experience with a particular girl. They should not be some imagined scenarios or rants by disappointed customers without any backup proof or evidence about what really happened. So when you read reviews, make sure to check the source, see whether it is affiliated with some company or directory close to the site, and whether it has some reason to throw objectivity to the wind.

Unfortunately, there aren't many reviews on Punter Planet. But what I can tell you from taking a tour and investigating girl's profiles, they are Australian girls (which allows paid sex, as you might know) and they are pretty expensive. I don't see why would you be interested in paying so much for sex when we all know that you like free sex and more of it!
PunterPlanet.com Call Girl Costs
To gain a sense of perspective on how much can an escort cost you, I extracted the information for some of the top featured call girls. Trust me, they are way out of line and cost much more than a superb date, and even more than one luxurious date. Here is an overview of the costs:
Incall

1 hour is $500
2 hours is $2,000
3 hours is $1,300
4-hour date is $1,500
Overnight is $4,000

Outcall

1 hour is $550
2 hours is $1,050
3 hours is $1,350
4-hour date is $1,500
Overnight is $4,000
My Summary of PunterPlanet.com Features
I can safely conclude that this escort site is a tricky directory that needs to be threaded carefully. That is, if you are a fan of paying the above-mentioned amounts. That seems somehow ridiculous to me in today's world when a plethora of excellent adult dating sites are readily available for free.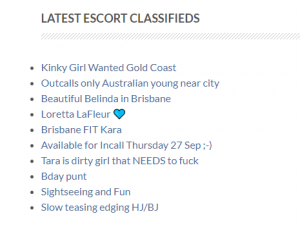 My biggest concern is the "escort classifieds" area. This is just a mix of escort advertisements and has nothing to do with personals that lead to free hookups. Honestly, it just puts this website among online dating scams. I suggest checking out some of the instant hookup, milf, and proven dating websites.
There are too many sites out there like PunterPlanet.com that don't deliver. They cost too much and they're not safe. Having spent so much time reviewing these sites, I know the truth about them – trust me on this one!