Today I got my chance to take a tour on OnlineCrush.com. I applied my sleuth skills to your benefit and see if the claims and the testimonials I encountered about the site on adult dating forums are true or just stupid claims from naysayers and the jealous competition.
This tour ensured me that I am letting my patrolling go to waste. I am actually pretty good at it! It turned out Online Crush is more of a crash than a crush. Considering how long it took to for me to complete the full review until I was satisfied with the final result, the site is a crash.
Authenticity (Or Lack Of) @ Online Crush
I distrust any online adult dating business that puts serious restrictions on contacting customers. If you are unable to get in touch with the people behind the business in a quick manner, how do they expect to maintain good customer relationships?
At OnlineCrush.com, contact channels are very limited, providing only a couple of email addresses for contact and imposing restrictions on them in terms of payment contact. They want me to give them my personal profile and my credit card info forever. On the other hand, they have problems talking to someone about the transactions?
Why does the email contact exist anyway? I don't like to talk on expensive international landlines just to clear a customer issue. In these days of live customer chat, placing restrictions on communications tells a lot about someone's fraudulent ways. It helped little that OnlineCrush.com did a good job with the design because I prefer good essence before makeup. I always give preference to genuine sites in my reviews and OnlineCrush.com failed to deliver that.
Why is OnlineCrush.com a Fake Dating Site
This site review was not an easy ride. It was as I am doing patrolling in a wicked neighborhood where everyone is connected to everyone else. But I am not the one to be easily tricked and here is why:
Virtual profiles exist on OnlineCrush.com.
This hoodwink tactic didn't slip my eagle's eye from the start. I'm a pro who reads the small print. The initial agreement for registration includes:
"I also agree to receive email newsletters, account updates, special offers and communications from computer-generated virtual profiles, targeted to me and my interests".
You are hooked from the beginning If you say yes to this. If you want to join in, you need to do this. How can you tell that you have a sex talk with a hot babe or with a spambot? It smells like a scam miles from miles away.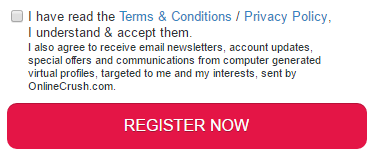 Agreement to the Terms and Conditions in full.
"You can't change the Terms of Service or alter them in any way or only agree to some of the provisions. If you don't want to agree to the Terms of Service, you should use your browser "back" button.
When I see this notification, I know I am up for a fishy thing. No chance to say no? Having to chase and research each small detail to see if there were any changes to the site conditions sounds like a big no-no to me. I wouldn't encourage anyone to join a site that does not prompt for changes in the Terms and Conditions. When a site leaves the task to the user responsibility, you should open your eyes wide.

No hookup guarantee whatsoever.
Yes, I know. There are no guarantees that you will get laid when you want to. But a decent site would at least offer some statistics or give insights into the hookup rates to encourage users and provide some expectations. Today, when there are so many adult dating sites that offer free premium memberships, being left totally to your own devices isn't very promising.
Limited discount periods.
This one had the red light all over it. Your membership fee is auto-recurring "even if the Normal Rate has been increased from the current Normal Rate".
What does this even mean? It can mean anything. If you are in for a current membership including a 60% discount, next month the fees may go up. If you don't follow all changes, you will get an unpleasant surprise once you get your card statement. This is a classic rip-off trick. It's the least favorite of most users because it strikes directly to the wallet, no questions asked.
Your profile remains visible indefinitely.
Even if you delete your account, certain parts of your private information will remain in the ownership of OnlineCrush.com forever:
"You hereby grant to us a perpetual, unlimited, royalty-free, worldwide, non-exclusive, irrevocable, freely transferable, license to run, display, copy, reproduce, publish, bundle, …make available to any person or otherwise use, any information or other Content you provide, upload, or transmit, on or through the Services we provide".  Say goodbye to very private parts of your life forever.

Price Tag
Basic access is free.
Premium Membership prices can be upgraded to Regular Membership prices. This is the non-discounted and the non-promotional higher price.
Premium Memberships cost:
1 month – $29.95 per month

3 month – $19.98 per month

6 month – $16 66 per month
Busted or Trusted
I didn't have much confusion about my final verdict for OnlineCrush.com – this time I was up for an easy task in terms of busting a scam, although I did suffer while reading the convoluted, tricky and dubious Terms and Conditions, at times impossible to be deciphered by top lawyers.
However, I am not a part of the Adult Dating Patrol for nothing – my nose can sniff a scam from very far, far away and OnlineCrush.com is for sure into a cloud of funky spunky smell.