Some adult dating sites that don't play fair use evident methods. I sometimes wonder how come they still exist and lure people into murky dating site memberships. It's difficult it to discover how many genuine features are there on one adult dating website. But NaughtyMatches.com just made my job easier because I busted it immediately. The site uses virtual profiles to draw in deluded subscribers for paid premium deals. It makes them think they are in for a real hot sex date with a genuine person.
Authenticity
If you expect naughty sex from NaughtyMatches.com, that's not what you are going to find! Instead, you'll get into a neatly calculated strategy to spend a lot of time on the website, thinking that you are in for the bang of the year. You are actually massaged and cajoled to submit your credit card details for premium memberships or for live cam chat tokens. The final result is the same as you are getting ready to be ripped off.
This review was an easy one. I wish that all of my patrol rounds were so easy as this see-through site. It can swindle anyone who doesn't get the details.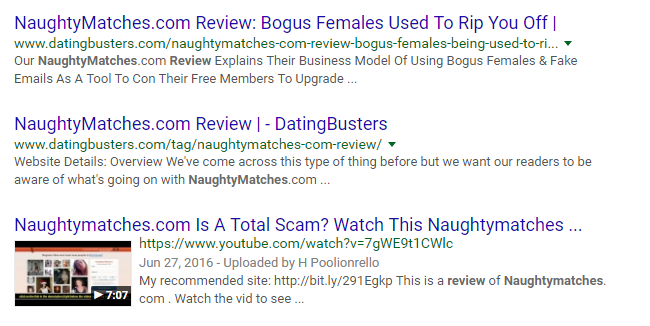 Why is NaughtyMatches.com a Fake Dating Site
Can you believe that the oldest tricks are still in play? People still turn out to be suckers for a good pussy. Though the pussy is totally unreal – as it's the case with NaughtyMatches.com. Here is how the nasty strategy works:
Computer generated virtual profiles.
NaughtyMatches.com says that they get in touch and communicate with you via virtual profiles. They do this for all type of contact and promotional offers, including all site features. Once you click that you agree to the T&C and the Privacy Policy, you have sold yourself to the classic scam because you provide an all-time permit to be bossed around by computers. There is no way around this rule. The only other option is to skip looking at this site. If I were you, I would hit the back button and return to reliability and genuine adult dating sites.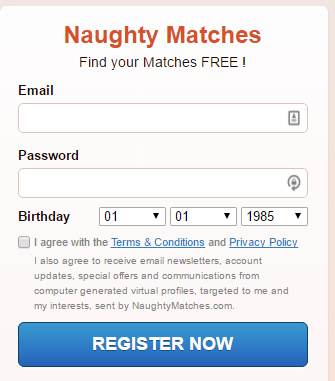 No pass at Google reverse image search.
Some people don't even know that this clever tool is available for any image uploaded on Google. I've heard stories of people who have found their personal photos stolen from social media or posted online publicly totally included in an unauthorized use by others. Although I am doing adult dating patrols, I couldn't possibly be doing background checks for everyone wondering in the virtual world, but I can warn about nasty tactics of NaughtyMatches.com where I performed the reverse image search and I found the same profile picture allegedly by a verified user uploaded on a makeup company site and on an event organizer. This was only a stock photo and no real person was behind it!
Confusing Premium and Standard User costs.
You have to be really vigilant to avoid automatic re-billing and understand who is a premium and who is a standard user. In general, standard users would get in for a free membership, charging no costs, and premium members need to pay to get access to premium features. However, there is no clear explanation for how are rates billed and whether you will be informed about any additional charges without your attention. You can easily get automatic recurring for a larger sum when you are actually in for a trial. In addition, no free sending of messages – just receiving. So – the free access is basically useless and it only serves as a marketing trick.

Misleading information about the number of registered users.
Okay, let's see a number of almost two million users is almost incredible, especially when it is not connected to a site with a long tradition, so I'm regularly suspicious of promises of huge member databases and double-check the information by searching the database in person. NaughtyMatches.com claims that it has over 1,700,000 registered users and even has a counter registering the newly signed in members, but once I got in, I quickly exposed this foul method. I could only track several dozen of members, and the numbers of millions, even thousands were far, far away from the true number.
Linking to paid cam shows.
You would think that this has nothing to do with adult dating and that it is just a bonus feature, but don't forget that you have agreed to check in for a virtual profile box at the beginning (if you didn't read the review before) and virtual profiles include all types of promotions, such as chatting to cam models. Beware that you don't get into a chat room with a sex cam performance and start paying for tokens when you are actually here to meet real girls and have real sex.
Price Tag
Basic access: free, but with no possibility to send messages.
Well, paid features are not exactly cheap and you are in for a rip-off because these are almost double the rates when compared to genuine adult dating tools:
$16.66 per month for 6 months

$19.98 per month for 3 months

$29.95 per month for one month only
Busted or Trusted
Stay away from NaughtyMatches.com and run fast in the opposite direction. If you have already become a member, cut your losses and be kind towards yourself – no one is an expert of online cons and many have been duped into getting less than what is promised. Genuine adult dating sites offer much more than what NaughtyMatches.com does and once you go through a several of my reviews, you will be more at ease with getting real sex, for low-cost fees or at no cost at all.