The best tactic to extort some cash from unsuspicious lookers for online love or sex are wrapped with some nice rosy shiny paper, so that misty eyes who want to get laid or even find a serious relationship fall an easy prey, trusting that they are at the right place.This is how CharmDate.com works, establishing a nice, good quality interface to trick you into membership and make you disregard the numerous paid communication services. They have five of them – all paid, just to keep in touch with the girls they claim to be looking for gentlemen for serious commitment – more or less.
Authenticity
CharmDate.com is a perfect example of how to use one and the same scam method and make it varied by packing it in different packages. Once I opened the homepage – I was pleasantly surprised and thought that I finally found some good new adult dating service with decent features.
It starts with good design and clear tools, but it is actually a lot of surface with minimal essence. It claims to hook you up with ladies from Russia and Ukraine who are interested in meeting men from around the world, but offers no guarantee for the services while charging almost all of the chats, messages, meetings and live hookups. Here is why CharmDate.com didn't get my vote of trust – hundreds of dollars for simple gifts!

Why is CharmDate.com a Fake Adult Dating Site
There are more than enough reasons that assured me that I am entering just another fraudulent site that wants to lure members into using one or more of its paid services with no hookup guarantees.
No safety assurance for communicating with the ladies.
There is a full menu of social activities that you can engage on CharmDate.com, but you are not advised to become too generous to the ladies – sending them gifts or alike in a way different than the provided methods of communication on the site, and you guessed it – they cost money. You can read messages sent to you for free, but you can not take any action on your behalf unless you pay – an excellent way to get you all warmed up and sizzling to be ready to swipe your credit card for the maximum number of credits.
More than five ways to extort money for the services.
I don't know if CharmDate.com thinks that the more services they provide, the greater the chance to get some money from them, but it certainly looks that way from the number of channels that they feature online. First of all, there is the specialized EMF email system. Then, there is the Live Chat. Then again, there is Love Call, Again, there is CamShare. If you think that the number stops here, then you are too naive and you underestimate the scamming methods applied by CharmDate.com. And, they are all paid – nothing is for free except the basic signup which actually provides no service at all.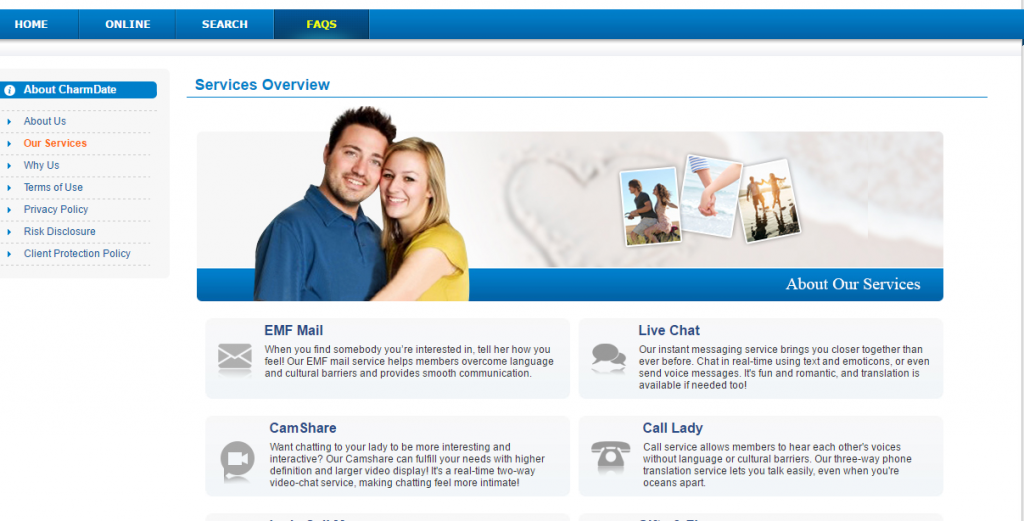 Model-like looking women in photoshopped settings.
I know that there are good-looking women on online adult dating sites, but when they all look like models, I tend to get suspicious, even when the site is about meeting ladies from Ukraine and Russia, where there are tons of gorgeous babes. Especially when the photos are filled with expensive looking clothes, makeup and jewelry, which is not usually worn by someone who is looking for a real date, but by someone who is looking to rip you off.
Virtual gifts are made up to send them to your new virtual girlfriend – like emoticons, hearts, presents and alternative fictional nonsense which is found for free almost anywhere else. But not on Charm Date – where each exchange counts for a credit that you have previously paid with your credit card. Credits are some sort of tokens that you give for each service, almost like a sex cam service, but from a different kind. This is just another fact that if you wanted to use cam sites, you would have gone on one, and not getting duped on false dating sites.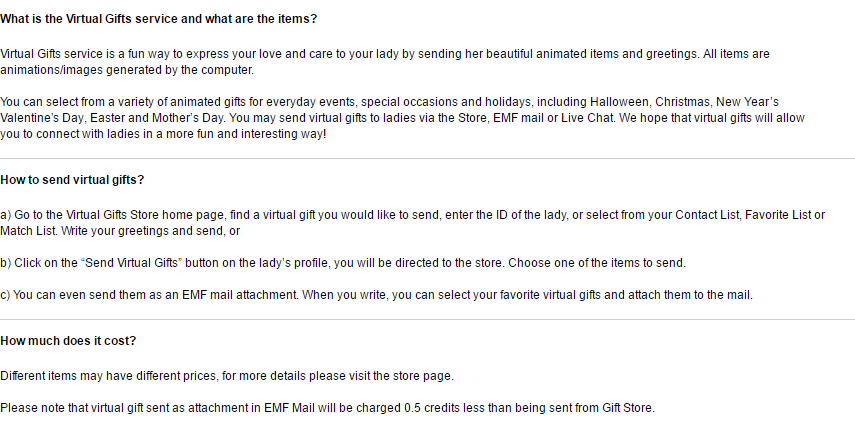 And here we come at the biggest scam ever, one I rarely see on expert scammin' sites, but pro fraudsters should congratulate CharmDate.com for this invention. By claiming that they help you not to be left without credits, your card gets automatically charged – just look at this: "In order to provide service continuity, we provide Automatic Credit Purchase function. Automatic Credit Purchase indicates your authorization to us on your behalf to purchase credits automatically when your account balance is less than 1 credit, or insufficient to cover the current use of the service."
Price Tag
Nothing is free, all services are charged with paid credits.

There is no clear explanation on periodical fees, just the number of credits charged for a service.

Credit is valid for only 180 days, then it expires.

Credits are charged automatically.
Need I say more?
Busted or Trusted
Wow – so professionally crooked services such as those on  CharmDate.com are not so easy to find. Ukrainian and Russian ladies are really alluring and clickbaity for a membership, looking really sexy and beautiful, good enough for anyone to want them for a wife.
But, with no guarantee whatsoever, and with various ways to get money out of you. CharmDate.com will probably only get richer, while you are left single.