Most Thai things are very nice – cocktails, beaches and food. People have very high expectations about Thai experiences. They fall for the fun adventures, the warm climate, the hot dates and the great holidays. Is everything Thai-related really so fun and fabulous? Having in mind our experiences with NaughtyThai.com we shouldn't share that opinion. Don't think so!
Why is NaughtyThai.com a Deceptive Dating Site
Since NaughtyThai.com belongs to the Together Networks we don't find many surprises here. For those of you who don't know the company, this is the one that works with several service promotions and charges messages in more than one way.
Sending Custom Messages
What is the cost of messages? On NaughtyFind.com it's not about the users. The site uses them to help subscribers get into action (at least they say so). These custom messages are templates you can use to get in touch with others. They were previously prepared by the site. It means that you fill in your details and have a bit of leeway to input free content.
However, NaughtyThai.com monitors the content and can change the template if they notice something that's against the rules. The main point here is that these messages are paid and that they do not resemble real communications. They're under the control of NaughtyThai.com given to some of the users by choice and don't guarantee positive results.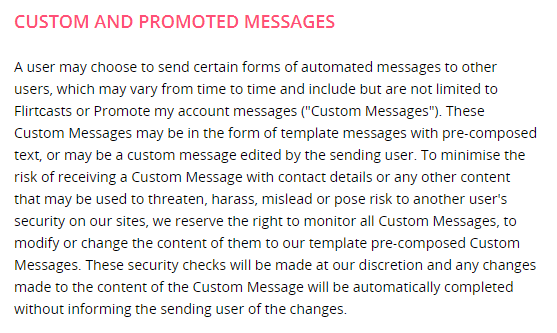 Booster Packs to Sell the Same Subscription Over a Website Network
You should by now know that Together Networks functions in a group of companies and has hundreds of subsidiaries. The subsidiaries have the same design template and use the same Terms and Conditions. Namely, they only have different dating niches. But your profile will be available on all these sites and the members' database is almost the same.
So – you get access to the same people but with purchasing the date boosters you seem like you get a bit more. There is no real boosting of your dating prospects. Your chances to find someone are the same. You just pay double or triple the subscription to gain access to more than one of the domains that have the same content and features.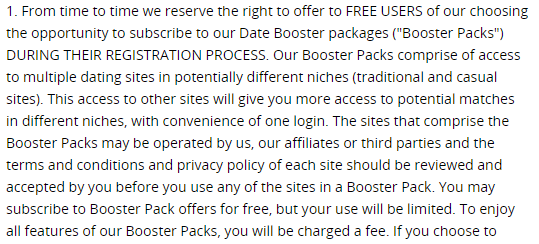 Promoted Messages? A Guise for Fake Profiles!
What exactly are the promoted messages? You can find this information in the Terms and Conditions. They're giving an opportunity to certain subscribers to get in touch with others and they're free. However, the persons who need to reply to the promotions must pay. As you can see, (and if you know the fraudulent practices with virtual profiles), this is just a hoodwink for fake profiles to send automated messages and lure you into expensive upgrades.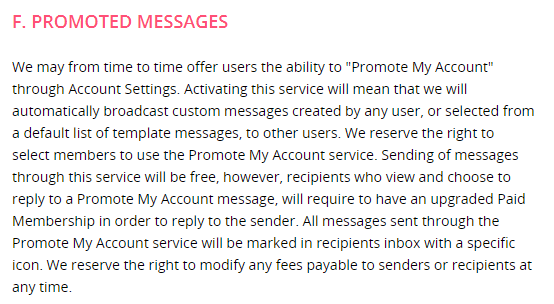 More and More Money: Now for SMS!
There are two options for NaughtyFind.com to charge extra money for SMS costs. The first one is a general option for SMS packages for all subscribers. The second one is dedicated to Australian customers. We're not really sure how this works, but it seems that Australian customers are going to pay triple the price for SMS because… we really don't know why they just do!

Yep – Again Together Networks! 
In the end, here is visual proof that the site belongs to the subsidiaries of Together Networks. This is a screenshot of the Terms and Conditions related to the citation.

Price Tag
$4.47 payment fee for a 3-day trial
$34.99 payment fee for a 1-month membership
$59.96 payment fee for a 3-month membership
$95.94 payment fee for a 6-month membership
Busted or Trusted?
We don't need any proof to confirm that sites associated with Together Networks are fake. We have them totally busted. If you want to give some trust to any of these integrated sites, you'll be making a terrible mistake. It's much better if you explore some of the recommended genuine options or find a choice that suits you better by doing your own research. These services are total frauds, organized in spades with plenty of commercial actions to take your money.