Fraudulent dating services are becoming more and more advanced, having no shame in how they scam people who are hungry for romance or horny for the good old sex date. It doesn't take much to lure someone who likes to have a hookup into taking the credit card out, but users are also becoming a skeptic. This is why advanced scams are at play, such as those applied by Loveaholics.com, which seems almost too good to be true, and it turns out it's not.
Authenticity
I should recommend prompt unsubscribing from the services of this disguised dating tool that is nothing more than a platform for commercials cleverly disguised into a well-designed adult dating site.
However, the good looks seem to vanish into thin air once you pass the niceties of the main subscription page and you end up on an inefficient screen with plenty of "social activity" features that are nothing more than computer-generated nonsense. I hardly doubt that there were many real people there, at least at the moment, because I decided to review this site after reading about its inefficiency from pissed customers.
This is a next-level scam for horny people, so stay out of it if you can, if it is too late – hit the unsubscribe button pronto.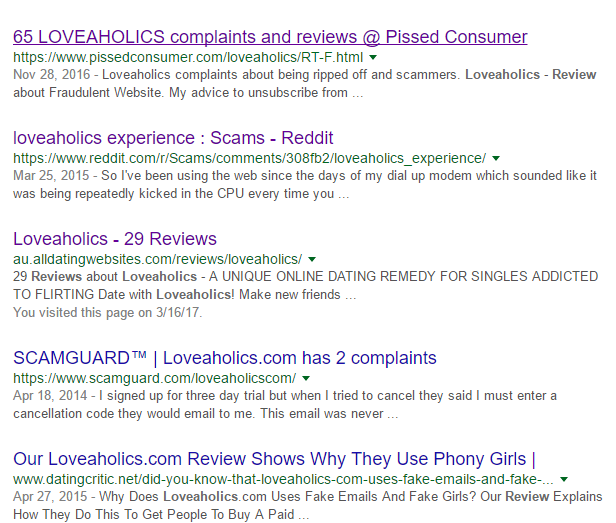 Why is Loveaholics.com a Fake Dating Site
It is evident very soon after you get into the game that you are not going anywhere fast. Or slow. Or ever. Here are the fraudulent methods of Loveaholics.com exposed:
Loveaholics.com will send you fake messages.
It's true that you will get a bounty of chat messages. But, does that get you anywhere? It doesn't and it won't be too difficult to understand why. All of a sudden you raise so much interest on a dating website. Are you that interesting in person? Unless you are the God of good looks and great character, such attention is almost unbelievable. You shouldn't believe it because it is false. It's there only to get you all buzzed up for nothing. You'll lose your head and start purchasing "sweet and bitter" tokens or upgraded memberships.
There are virtual profiles on this site.
Fake messages go hand in hand with false profiles because they are almost the same thing in different clothing. They're made up to entice conversation and ask for your credit card details for upgrades. Instead of arranging a date, you end up in a chat room, purchasing tokens to see a cam girl get naked. You can also find your duplicate profile, just to boost the site number of members.

Loveaholics.com is not helpful in terms of geography.
The dating site claims that it has a smart match detector. However, considering the way it works, it seems to hook you up only with members from your close area. Unless you live in a huge city, you basically have no real chances of hooking up with someone who lives away. Again, you may end up chatting with live cam girls and fall prey to the deceptive ways of Loveaholics.com.
It's just a platform for sister advertising by partner sites.
It is not only boring and annoying, but it is also against the rules to have so much advertising. The practice is especially intrusive when you are getting it all in your inbox. This is totally against online privacy. You should be particularly careful with anyone who gets your data and gives it to third parties without warnings and without limitations. There are endless possibilities for a scam. You wouldn't want to find out how far thieves go to abuse your personal details!
There are cam girls on the site.
This is just another example of the fraudulent methods of Loveaholics.com, wrapping up the other four in a nice package. It actually makes the perfect combination to extort money in more ways than one. You will be confused about making a difference between a real girl and a cam model on the site. The features are so intertwined that you may inadvertently end up paying for something you didn't order.
Price Tag
Loveaholics.com is actually not that pricey, but when all you get in exchange is a big zero, it is way more expensive than the competitors, and even more so in terms of genuine dating services.
$0.99 a day for a three-day access

$0.89 a day for a one-month access

$0.50 a day for a three-month access

$0.39 a day for a six-month access
Hidden costs for extra services:

Busted or Trusted
Loveaholics.com is definitely busted, even with its sophisticated scamming methods, My mindful eye doesn't leave anything to chance. It is far better to go for a subscription on one of the dating services with great tradition instead of getting lost in the mind-boggling labyrinths of this website. You will hope to find someone to get laid, but you must stay on your toes to avoid being ripped off by a cam model.