Nautell prepares yet another scam for us called FreeLifeTimeFuckFinder.com. This is the infamous company working with fabricated profiles called Love Stars making dozens of scammy sites "freelifetime". Nautell has a special feature in our guide to one of the biggest scam pulled in the adult dating world. In that guide, we introduce a dozen of the worst scams pulled off by the company that use the same mehod. Well, there is nothing new here with FreeLifeTimeFuckFinder.com.
Authenticity
What do you think of a site that promises a free membership and prompts you up for an upgrade all the time? If you opt out from that upgrade, because you can click the "no, thanks" button and visit the activity center, there is no way forward. When you start sending messages, there is only a limited number of messages you can send at no cost, and emails are paid with the total amount. Just as you get warm, you will be prompted to get an upgrade. You get back on the upgrade page, and the same story continues with the tweet and like widgets. It just keeps you going round in circles:
Why is FreeLifeTimeFuckFinder.com a Big Nautell Fraud
FreeLifeTimeFuckFinder.com uses fake women. These fake women can participate as employees or third-party agents who are employed to extort money from subscribers by making them upgrade for more. The trick is that you register for free, then discover that you can't do anything much. You can only stare at that irritating upgrade screen, and, in the end, get ripped off by someone who is not even a real person or who they pretend to be.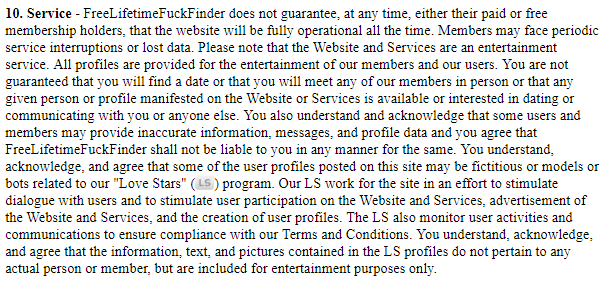 Fake Women Called Love Stars Who Send Fake Messages
The fake women created by the software on FreeLifeTimeFuckFinder.com are called Love Stars and there only to perform fraudulent tasks on the site. Their priority job is to engage you in fake chats when you join the site for the first time. At this point, they will have the most success in ripping you off. Their additional task is to send automated messages for sale to get extra income. Their third and most dangerous duty is happening on the site.

Nautell network expects partner collaboration with third-party companies. What is not expected and is really annoying is when your personal data is manipulated as personal property for the success of FreeLifeTimeFuckFinder.com. Despite the fact that they can use data for banking transactions and for setting up profiles, it is unacceptable to sell you what you don't need:

It is not true that you are giving the card for free – this claim just makes the dishonest methods of FreeLifeTimeFuckFinder.com more aggressive and deviant: "Credit card users may be subject to a preauthorization. The preauthorization is not a charge to the credit card. However, the then applicable monthly subscription rate may be reserved against the Member's available credit card limit." 

Price Tag
$2.97 for a 3-day trial renewing for $39.95 a month for a full paid membership.
$29.95 a month for a full paid membership.
$74.85 for a 3-month full paid membership.
$119.70 for a 6-month full paid membership.
Busted or Trusted?
I wouldn't trust any hookup site with the claim that provides free lifetime membership. Especially when it is related to Nautell! So, in the case of FreeLifeTimeFuckFinder.com, you should get as far as possible from there and find hookup dates on legit dating sites!