The claim that you are getting a free membership for good does nothing in practice – nothing on FreeHookups.com is free apart from the basic registration for which you will get zero – just one big potato.
The blonde that guides you through the registration process promises a sex heaven but the unpleasant surprise becomes obvious when you see that you must upgrade to use any of the services. Additionally, FreeHookups.com claims that it asks for the credit card just for verification purposes, while at the same time claiming in the privacy policy that it will process any charges against your credit card. This is why we have no doubts it does not deserve great credits.
Authenticity
With that fine and sexy name, we bet many people fall for the rip-off trap at FreeHookups.com, and this is why we have engaged into a detailed checkup of the site's features and documents. They may be plenty in numbers, but they all lead to the same old upgrade bait, asking you to choose one of the longer memberships to be able to chat, send unlimited emails and IMs, as well as join the bonus services. You should under no condition, whatsoever believe the claims for free membership – the only thing that is free is the browsing. And since when is browsing considered enough to get a sex date?
Why is FreeHookups.com Just Another Adult Dating Scam
All coming down to the same credit card requirement, let us shred the fraud to pieces so that it is easier for you to digest it and recognize any similar fake services:
FreeHookups.com uses automated profiles called Hookup Assistants to help users find their way around the site.
These fabricated profiles are digital creations made alike real girls will "help" you around the site in many ways that only benefit the site. Here is what is the role of the digital profiles: "A HOOKUP ASSISTANT may be a digital actor, an avatar or a synthespian (e.g. a computer generated "person" or "character"). HOOKUP ASSISTANT may be employed by freehookups.com or a third party to enhance Your online experience. For example, a Hookup Assistant may provide an electronic introduction to new or existing freehookups.com features or functionality, or discourage inappropriate behavior."
After you subscribe, you can only get rid of them with a paid upgrade:
"UPON COMPLETION OF AN ACCOUNT TO THE WEBSITE YOU FULLY AND TOTALLY UNDERSTAND AND ACKNOWLEDGE THAT ANY PAID SUBSCRIBER WILL HAVE THE ABILITY TO DISCONTINUE THE HOOKUP ASSISTANT AT THEIR DISCRETION. Freehookups.com recognizes that some paid Subscribers would like to have the ability to prevent these HOOKUP ASSISTANT communications."

FreeHookups.com membership is NOT free.
As we have already explained in the intro, any time you try to reach to use a service, be it an instant messenger service, the virtual chat or someone else's profile, you are asked for an upgrade. You also must provide your credit card details and hope for the best to happen!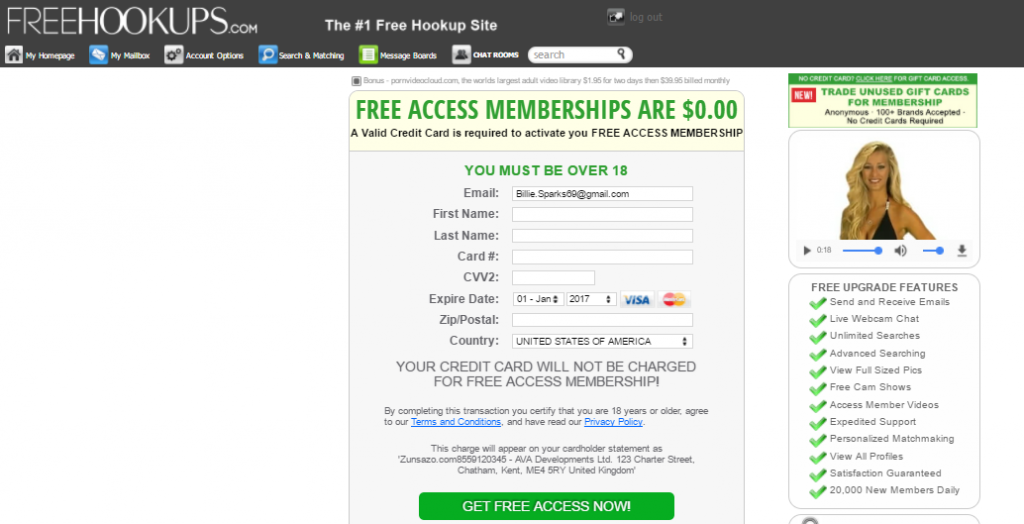 FreeHookups.com uses your personal information for promotions.
If you are hoping that all your details are kept safe and sound only for the purposes of meeting someone on this site – don't go so forward. FreeHookups.com will use your provided information to sell it to commercial partners:

This site offers fake rewards.
In a similar way to other fraudulent services belonging to the same network, you will be offered a reward claim, which is only an option for FreeHookups.com to sell you porn site subscriptions or memberships to paid cam sites.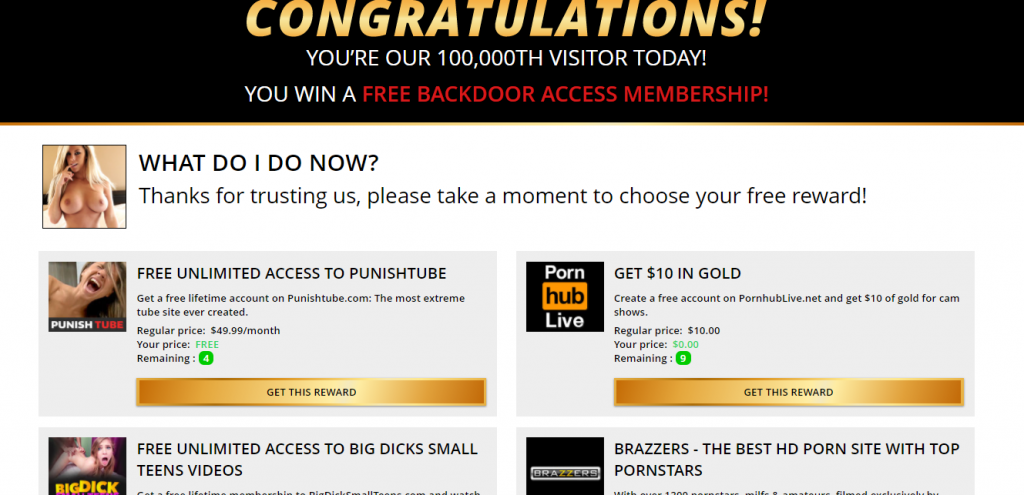 In a case of a card fraud, FreeHookups.com will charge return fee.
You see where the catch lies – in a case of someone stealing your card details and there are charges coming out of the transaction, this provider will don't have doubts about providing your cards. So, even if you don't buy an upgrade and you have provided the card details – you are at a great risk.

Price Tag
$1.97 for a trial deal

$29.95 for a gold monthly subscription

$34.95 for a platinum monthly subscription
Busted or Trusted
Don't let that super-sexy blond chick smooth her way into your pocket and make you think that you will get the same easy way into the panties of someone as hot when you start using your paid upgrade on the site. There are many hints and proofs that highlight the scam at FreeHookups.com and it won't take you long to notice the deceit if you have just a bit of experience on fraudulent dating sites.