At FreeHookupAffair.com they promise a low-key perspective of adult dating. Casual sex, as they say, should be fun, not gloomy, and that's the key approach of FreeHookupAffair.com Is this really the place to collect thousands of singles and arrange booty calls? Yes, a lighthearted approach to online dating is fun but we are not so sure that there are thousands of new members joining each day. Although it is true that when you want to date no strings attached, you don't speak of marriage, you need some level of commitment from the website. By joining  FreeHookupAffair.com you will get expensive charges and no dates from the type you want.
Authenticity Definitely In Question
What is the service package at FreeHookupAffair.com? Let's see how big is the gap between the expectations and the reality.
You get the private messaging option to send safe, discreet messages with no personal info provided in the video chat option.

You can get lucky by assessing your potential dates slowly before you meet them in person, in front of the computer or smartphone screen.

You can choose the preferences about the type of people that you like to meet and get matches from a list of compatible singles, making your own booty call list.

The offer allegedly includes no hidden fees, webcam account, daily videos, HD quality and unlimited downloads.
I am left speechless by the lies spoken by FreeHookupAffair.com and below is my explanation why.
Why is FreeHookupAffair.com a Fake Dating Website
Here is a step-by-step description of the scam performed on this deceitful website:
#Step1
In order to guard against fraud and or people who are underage, you must complete age verification by providing your credit card details. FreeHookupAffair.com claims that this is for securing that you are over 28 and that no charges will be made. And logically, you give the details and complete everything as requested expecting no charge to your account. This is how that looks on the screen: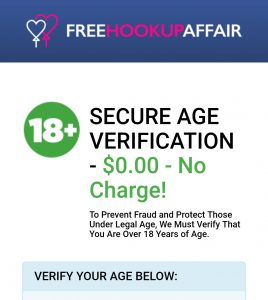 Normally, you also agree to the terms of billing without even looking into them in more detail.
Next, when you scroll down, you provide your card details: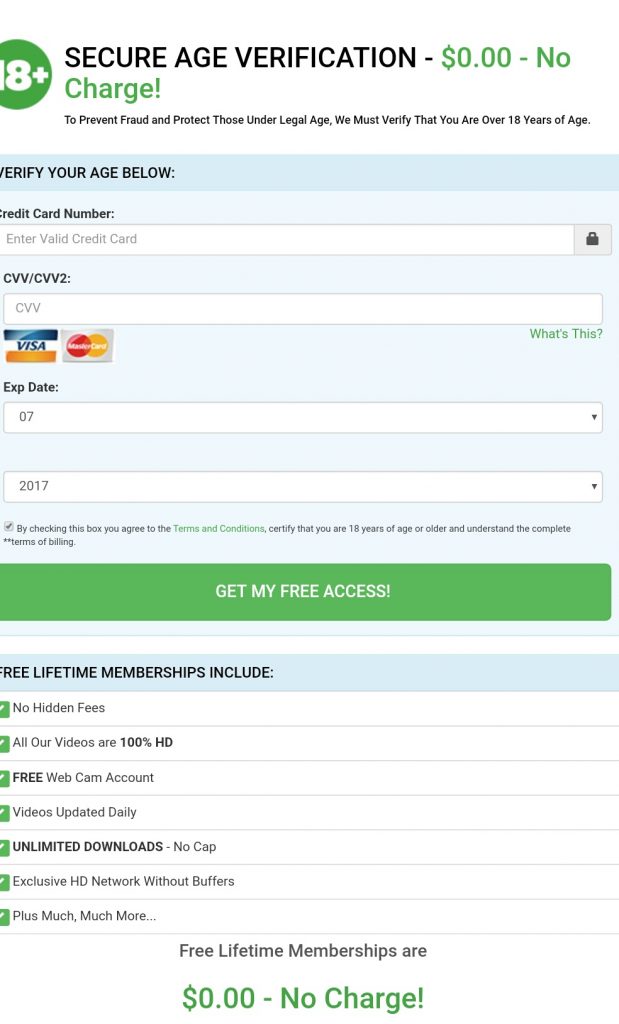 So, you will be very nicely surprised when you see that there are extra products that are included in the package, such as the following:
"Your Free Lifetime access to FreeDatesForLife includes a free 2 day trial promo to FreeDatesForLife-GOLD+++ that renews same calendar day at a fixed $39.95/month after the trial ends unless cancelled. TO AVOID BEING CHARGED, SIMPLY CANCEL YOUR FreeDatesForLife-GOLD MEMBERSHIP BEFORE THE TRIAL PERIOD ENDS. Your lifetime access to FreeDatesForLife remains active even if you cancel your FreeDatesForLife-GOLD membership."
So, it is not like the offer is really free, right?
Moreover, it is quite pricey, a fact that is visible in the boxes which are automatically checkmated below the initial offer: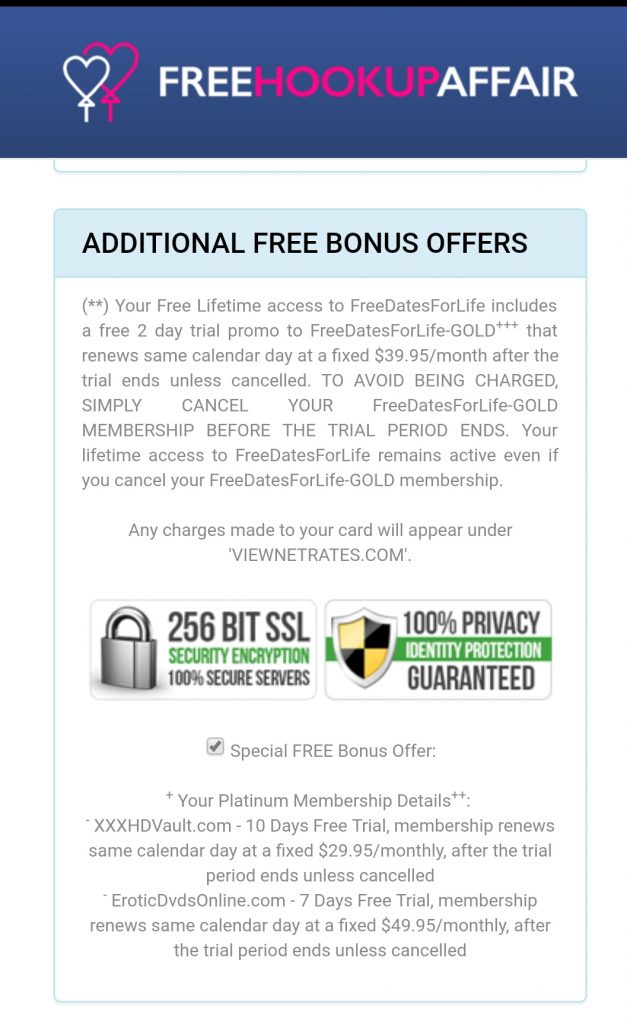 #Step 2
Your membership is renewed immediately after the expiration of the first period, and each subsequent period after so that you remain caught in the endless subscription loop:"Subscription fees are automatically renewed, and therefore automatically credit card or check debited, at the end of the original term selected, for a like period of time, unless proper notice is received from the Subscriber at least seven (7) days prior to renewal."
#Step3
Here is a quote from the policy on partner companies who may place third-party links on the website and charge you extra for cam or video services:"This Site may contain links to other sites which are controlled by third parties. Those linked sites are not under the control of the Site owner or operator and this Site is not responsible for the contents of any linked site or any link contained in a link site. The Site is providing those links to you only as a convenience, and the inclusion of any link does not imply endorsement by the Site of any other linked site."
Price Tag
Monthly subscription charge is $39.95 and renews each month on the same date.

"Bonus" offers:
Platinum Membership




XXXHDVault.com – 10 Days Free Trial, membership renews day at a fixed rate of $29.95 per month.

EroticDvdsOnline.com – 7 Days Free Trial, membership renews same day at a fixed rate of $49.95 a month
Busted or Trusted?
I think that FreeHookupAffair.com is on the list of least deserving websites for getting the trust of Adult Dating Patrol. The key reason for that is the existence of cumulative and hidden costs that are really nasty and can reach a total of over one hundred dollars per month, without taking into consideration the third-party providers.