BootyCallz is a website that aims to connect it's users with ebony partners.  I have a thing for black women, so naturally I jumped at the opportunity to join BootyCallz.com and see what was out there.  As the official guinea pig for Adult Dating Patrol, I decided this was one I didn't want to waste any time on and after a few weeks of using the site, it's time for my full review.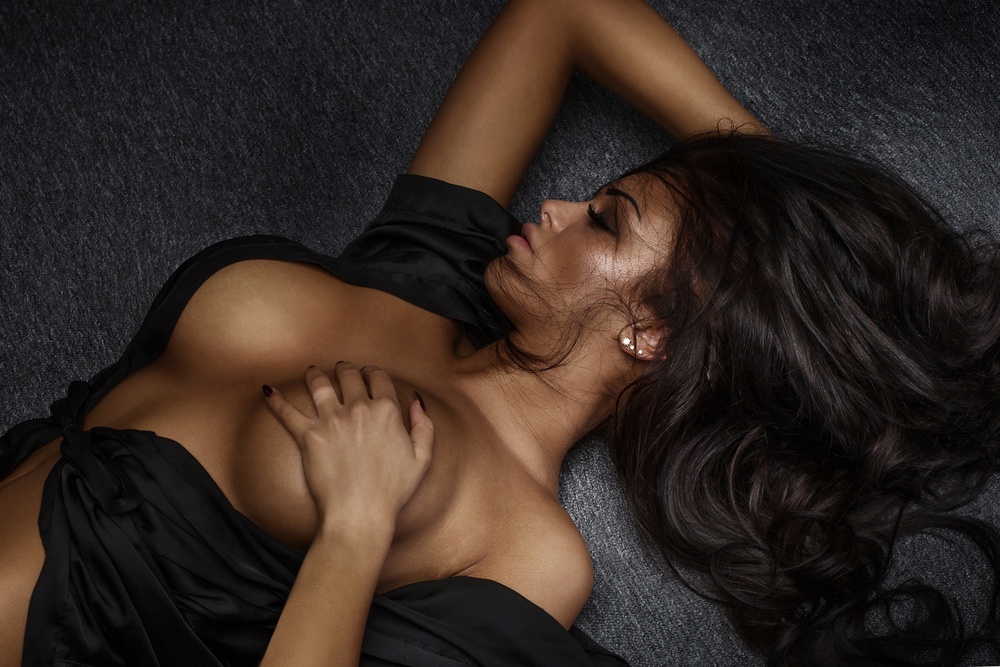 Is BootyCallz Legit for Meeting Black Women?
I landed on the home page, which didn't have a lot of information to be brutally honest, but then again, most of the dating sites have minimal messaging prior to getting past the login screen.  I joined by making a free account, which I later upgraded, (spoiler alert, this site is LEGIT) and I set off to create my profile.
The first thing I liked about this site is that it's clearly open about the fact that not all of it's users seeking black companionship have to "be black."  As a white male, I found it comforting that the sign up process gives options to update your background information.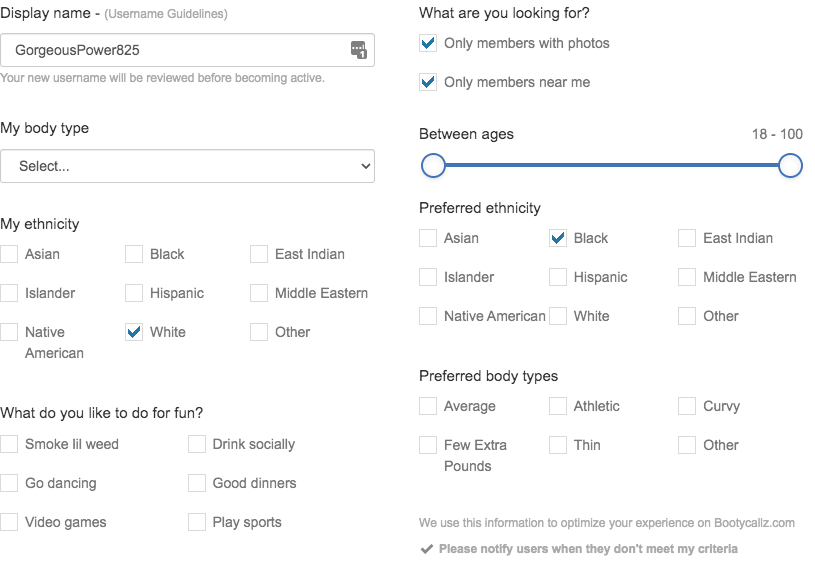 As you can see, you get right into the nitty gritty when you create your profile.  You can talk about your body type, ethnicity, and what you like to do for fun.  I like all of these things for fun, so I checked all of them.  This also creates the most opportunities for matches, so as a pro tip in profile creation, you should do the same.  Just because you may not like going dancing, don't leave that box unchecked, because it's not like that's all you have to do when you meet someone!
You can also select your preferred body types.  Now that one I'm a bit more precise with as I don't like the BBW women, but there other sites for that, like BBWZ.com, so if you are into heavy set women or curvy women, you should definitely try that one.

Once you create your profile and are on the inside, you'll see that they won an AVN award for the best adult dating website!  Impressive, and this just got me even more excited to view my matches.
They also make some claims that I look for in any dating website, such as:
They don't have their in house team create fake accounts, which many of the notoriously scamming websites do, which is extremely shady.
Fake sign ups are monitored 24-7 by a team of customer support professionals
They don't spam.  They don't sell your info (very important.)
You can unsubscribe at any time if you meet your match or just aren't interested in using their service further.
Parent company has over 11 years of happy customers.
BootyCallz Trial Options
Currently a gold level two day trial is under a dollar, at just $.95.  You can spend 48 hours browsing profiles and messaging women (or men) to see if you like the site.
A gold seven day trial is just $9.95.
A monthly membership, the most popular option, is $34.95.
However, if you are SURE you want to join, and want to commit to a longer time period, sign up for six months for just $69.95 ($11+ per month) or a full year for $6.67 per month!  It's nice to see that they are giving such amazing commitment options, especially given that with the inflation these days about every other industry isn't doing something similar with their prices.
Once I joined, I was AMAZED by the amount of talent near me!
I'm always looking for black women on my favorite hook up app, Fling.com, and I've had a lot of success there, but this place is the MECCA of black dating!  I'm amazed at not only the pure volume this site offers, but also the amount that message me back saying they are looking for a white man like myself for a new experience.
It's been over a month of dating on this website, and I can say I've gone on 4 dates (while juggling my crazy career requirements and dating on other platforms as well) and they have all been spectacular.  I'll leave out the gory details, but I can tell you that half of the women have turned out to be amazing in bed and we have some serious connections.
I highly recommend this website for anyone looking for ebony hookups!