What is so special about FlirtHut.com? Well, for starters, it offers a decent amount of free credits. This is not the usual practice of casual hookup sites. Typically, you need to buy dozens of new credits to be able to perform basic functions and use basic features. Below we will describe the process of arranging dates on Flirt But.com, and how it created the possible memberships and subscriptions.
Authenticity
FlirtHut.com is making it all about the warm welcome for new members. You can read a digest of the rules on this site, but there are also ways to explore them in detail in the comprehensive documents. The fees are clearly stated in the About Us section. You are in the clear about what you get as a free member, as well as what comes on the premium service. The subscription is based on a freemium model. Basic members get just a few credits. Premium members get unlimited privileges. You can test and try the site for free, then go to the full service if FlirtHut.com works for you.  There are no service-created profiles, so, that's a good sign of a genuine service.
Why is FlirtHut.com a Genuine Dating Site
There are several moments that build trust with the service:
Clear calculation of the number of credits and membership fees

Extensive explanation of the registration and dating process

What you see is what you get

Freebie credits

No fake profiles (at least not on behalf of FlirtHut.com
Can you find something good and sexy here?
 Perks of the Premium Membership
You won't see the annoying ads, only free members suffer. Premium profiles get into the top search results. Instead of only 6, you can upload up to 40 pics. There are no limits to the number of contact requests and daily messages you can send to others. Message length can be as much as you like it to be. The convenient "who's online" feature lets you know how active are others and what they do on the site so that you get an idea of who is really interested.

FlirtHut.com's Dating Advice and Dating Forum
These areas are like a small hub for unpaid dating advice. Typical forum topics include asking girls and guys out from the other sex perspective, healing broken hearts with sex after divorce or breakups and varying other topics that help people find their way around dating sites. There are over 200 replies from real people there so you will probably find something useful and to your liking.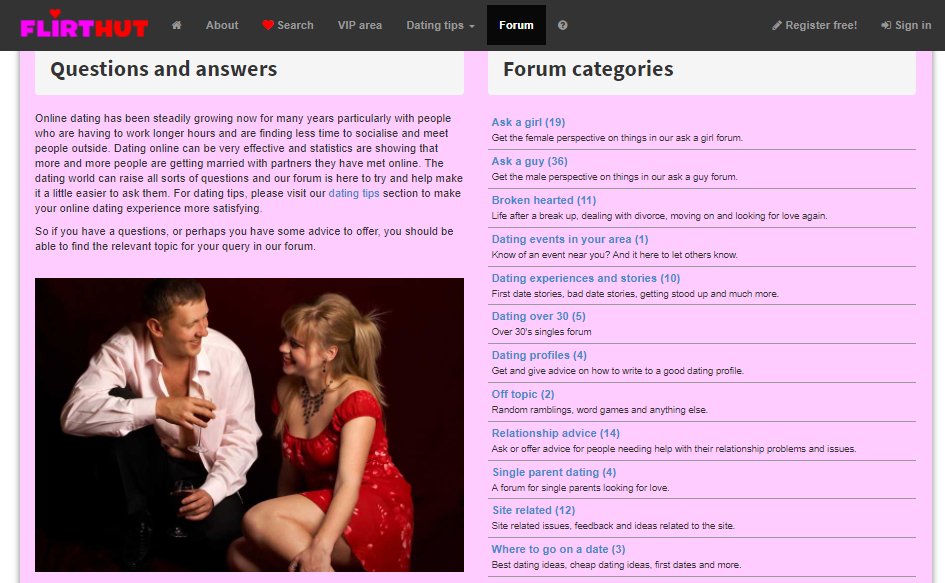 There are no restrictions on how long the messages or the restrictions last on FlirtHut.com.
Price Tag
Premium membership is $50 (£30/€36) per year or $4.17 (£2.53/€3) per month

100 credits are $17 (£10/€12)
Busted or Trusted?
FlirtHut.com is a Flirt Hub – a place enabling for like-minded people to casually meet and exchange opinions about dating, as well as to find people interested in casual hookups. It doesn't take long until you get a hold of this site's workings. It's pretty simple and easy to navigate with user-friendly features. If you go for the freebies, what's there to lose?