This is the real review website coming from a real person called Jason Lee. This Jason Lee guy has really put a lot of effort to confirm his identity and make his profile authentic. Not only has he some decent profile info and profile pictures but he also uploaded some references to visiting hookup website conferences such as the iDate conference. He is additionally providing a link to his YouTube video channel and a decent amount of text under the images to prove his verification.  There is a lot of content on DatingWebsiteReview.net. But it's not strictly about hookup websites or for casual encounters.
DatingWebsiteReview.net: Content
The content has several resources that include mainstream dating. The main top ranking is about well-known popular mainstream dating websites. However, there are rich resources about hookup apps as well as about some cam rooms if you're interested in that. Jason has invested a decent amount of hours.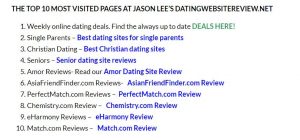 He provides information about industry news as well as explains how the usual dating site review process goes.
DatingWebsiteReview.net: Focus on Variety
First of all, you get links to the top dating websites. However, as mentioned above, these are about mainstream dating. You get to learn a lot about Match.com, eHarmony, and other popular applications. But you won't get too many insights into the NSA dating. If you want to know more about how to hook up with strangers online, then you should visit the dedicated section about this niche. Visit the homepage. Here you'll find the mix of website reviews that encompass all sorts of dating as well as to look into some webcam reviews. Cam reviews might be a great alternative for people who dislike online dating.
What About the Sex Tip Section?
The sex tip section is intertwined with the news section. It seems that the author has written the content according to his own personal experiences. This is, on one side, a good thing but on another, a bad thing. For example, you can get an impression of what it feels for a real person to date and join the membership website. But it's also a limited experience because you won't be able to get a 100-percent overview of the general population. Therefore, if you use this resource always compare it with multiple dating website reviews if you want to get a more accurate assessment.
Advantages and Disadvantages of Using DatingWebsiteReview.net
The greatest benefits of DatingWebsiteReview.net is the inclination to go in-depth into the information that you need for your dating life. If you're worried about the authenticity of dating websites and existing scams you'll learn a great deal about how to avoid them by listening to Jason Lee.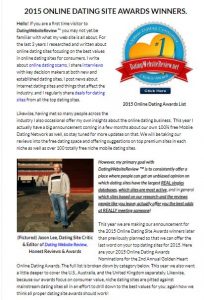 Jason explains why you should compare genuine resources, how to find them and how to distinguish between real websites and fake resources.
Conclusion
It takes a decent amount of time to go through all the website but the tour will provide in return an overall well-rounded impression of how websites work. Its only downside is that it hasn't been updated in a while. You won't be able to follow the latest trends in the last two or three years. As we all know that dating is an industry the changes often at a fast pace.
If you don't follow up all recent updates you will miss on a great deal. You won't have a clue about the latest technologies. In a nutshell, if you want to have a general impression of how online dating works browse through the website. You will definitely learn all the basic stuff that you need about hookups but most importantly about mainstream dating.
There are lots of sites out there that you can turn to for site advice (including mine) but some are definitely better than others. Just be sure to do your homework whatever it is that you're looking for.