DatingAffair.com is one of the better looking adult dating websites, that I must admit. That fact still doesn't absolve them from the liability with the scam they have performed with you the fabricated profiles. It dips everything down in the water in a minute. The nice looks won't serve much when there is no chance of meeting anyone. Moreover, the scam is quite a rip-off, too!
Authenticity
Do you think that this is an exclusive offer for meeting many people with no cost or with no obligations? Let's see what is included step by step:
Free registration and completion of your profile
Include details in your profile description
Searching the box to connect with members in your area
Sending and receiving messages to arrange real sex dates
As you can see the big words do not have much content and they do not provide many exclusive services. Just the regular stuff wrapped in a nice design and accompanied with several scammy methods.
Why is DatingAffair.com a Deceptive Dating Service
Your privacy is endangered in several ways.
This is not the first time we are acknowledging a low privacy level on dating sites.  When they are not working in the right way they are really doing it all the way and try to use as much of your data as possible. It is almost like you are becoming their property. Rumors and not only rumors but some well-done research propose that fake dating sites pose the greatest risk to your privacy ever. This is how DatingAffair.com does it:
Your information visit used across the partner sites in the whole Network.
You allow your information to be shared with affiliated companies and third-party companies.
The information you provide in the communication with other members is not private, it is monitored.
The site uses fake profiles use Online Cupids.
You agree to be communicated by the fake women called Online Cupids. These are just bots that do their own thing on the site – lure in more customers. Did you know that they are fully automated and send multiple texts to users at once? You have no chance of meeting any of these software creations in person:
"You understand, acknowledge, and agree that some of the user profiles posted on this site may be fictitious and operated by the Site or its contractors. These profiles and related messages are conspicuously labeled with the Online Cupids logo.."
They show up along with the Terms and Conditions agreement that you need to sign when you register: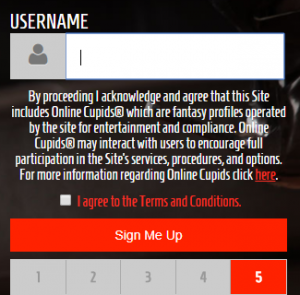 You will receive a splash of electronic messages.
These electronic messaging is made just for commercial purposes. Sometimes they start just when you join, sometimes they come along with the online cupids. In any case, they are terribly annoying and just prove my point that DatingAffair.com must put fabricated profiles to sell memberships and rip off users:

 There are no free subscription packages.
Although the landing page promises free use, there is no way that you can communicate with the free registration. Actually, you join for free and the online cupids send naked pics and provocative texts to make you subscribe for one of the premium packages:

Price Tag
If you don't notice the already marked box for Date Match and for Naughty Access, you can easily be ripped off for triple the amount you have envisaged:
Monthly subscription to the main services is $24.95
The $2.97 trial is renewed for the full monthly amount.
Busted or Trusted?
If you don't want to see your profile data and your photos spread all over the network avoid DatingAffair.com. I would also keep my eyes open when I chat with "girls" and when I say yes to the great subscriptions on offer. This review proves that DatingAffair.com is just another big scam that will not at least help you to find sex tonight.