CurvyBBW.com seems like an ideal place to snatch a nice big lady and have a super sexy hookup date. Although we have reviewed the most pervasive problems users face when trying to hitch with curvy girls, that doesn't mean they are much different than the rest of the challenges people encounter on adult dating sites. Yet, it is useful to follow the track of the scam that is deployed on CurvyBBW.com, so that you know how to deal with it on other BBW sites.
Authenticity
This BBW dating service uses virtual profiles for selling services. This means that when you join the site, you may expect to chat and flirt with a real girl online, but get nothing close to it.
By registering, you accept the T&C. That document clearly states that you must interact with phony profiles. There is no way around it at signup. The search screen is full of ads that ask for an upgrade. Not only will you not be able to chat, but you will be incessantly blasted with annoying extra offers. Their sole purpose is money extortion. It is one of the biggest problems you will face on CurvyBBW.com,
Why is CurvyBBW.com a Fake Adult Dating Site
Let's go step by step and review the signup process at CurvyBBW.com, the upgrades and the way you interact with other users. The following section will explain the most pervasive problems and help you avoid them:
CurvyBBW.com utilizes an extra SMS program with tokens.
In order to interact with other users, you can use the chat, the IM or an SMS service. The point is, however, that you don't use standard texting but you must use the commercial service provided by the site. This service is managed by tokens and you need to buy them. The lower-grade subscriptions have a limited number of tokens. You will be able to send a limited number of messages. Imagine getting into a hot chat just to discover that you don't have any more tokens. The only option is for you to buy more with an expensive upgrade:

You can't tweet unless you upgrade.
The sidebar has a Twitter-like feature that provides the users with the option for free, NSA fun in the community. It looks like a great option to see what's going around, right? Don't be so quick to jump to conclusions, because you can't tweet unless you upgrade – so no free service at all. There are so many ways to find a free social tool, that we are surprised to see that this works!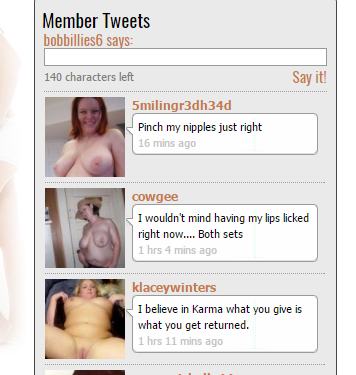 Fabricated girl profiles entertain users.
The fabricated profiles at CurvyBBW.com are called fantasy cuties. We wonder if they got the name only because they will stay in the fantasy. These fake profiles jump start your membership. Just as you register, you will notice two or three messages from these "cuties" whose only objective is to get you in the mood where you make decisions with your penis, and not with your head:

Your data is unsafe with third-party advertisers.
There are policy documents on CurvyBBW.com, and regardless how shaky they may be, they still put some framework. That is not the case when you deal with partners. The same policies do not apply. You must open your eyes and check each provider's policy separately. This is the only way to avoid adding more problems to the ones already present on the site.

Price Tag
$8.90 for a three-day trial package
$29.95 for the monthly subscription
$49.95 for the three-month subscription
$69.95 for the six-month subscription
Busted or Trusted
If you are in for bigger women, you may easily stall upon CurvyBBW.com. Before you fall into one of their traps and get a new problem on your back, pause to think of the things we just explained. With the excellent choice currently present on the market, there are really much better places that will provide just what you are looking for.