What does it take to find a  legitimate dating site? Nothing more than some luck and some knowledge in the matters of adult dating. LargeFriends.com is here to take you into a potent BBW dating community with affordable memberships and real people. It becomes obvious that you are dealing with real people once you join in and become a free member. Only bonuses require a gold membership, so, yes; it is not 100% free.
Authenticity
LargeFriends.com is connected to a large network of affiliate members. The main website works as the central platform. All other landing pages refer to this site. It's good to be aware that you are approaching one and the same directory. You can check a full list of LargeFriends.com partners on the corresponding link at the bottom of the page. Overall, the site has good side documents, explaining many customer questions and how the business works in general.
There is quite a lot you need to fill out for your profile before you're in, but it only makes the experience worthwhile.
Why is LargeFriends.com a Genuine Dating Site
Although the site is rich with real women whose photos are available on the platform, you still need to open your eyes to some things:
Profile Verification with Limited Responsibility
Even if one of the partners of LargeFriends.com provides some verification or certification procedures, you should rely on your own common sense. Don't trust everything you see online. Some links for profiles may still be faked, which may ruin your otherwise great experience of this serious and casual dating site.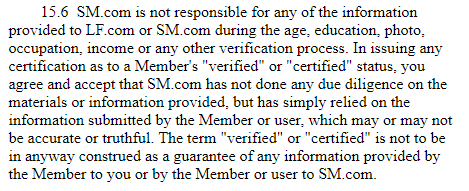 Reporting Fraudulent Profiles on LargeFriends.com
If you mess up with a certain profile, you get the chance of reporting it. LargeFriends.com incorporates user poor experience into its procedures by taking care of the concerns. Having some protection against frauds is a good sign of genuine dating sites.

Links to Affiliates
When you start browsing the site and explore links, it's wise to pay attention to what you're getting yourself into. It's never easy to know what can come out of a third-party supplier. Even if the business is included in this website, LargeFriends.com doesn't offer excellent responsibility for all their partners; for some moves, you are on your own:

Over 100 Affiliates Link to LargeFriends.com
Go to the link for affiliates to see the full network of sites that link to the main business. A good support network can mean one of two things: either good quality services that attract a lot of new members or fishy linking to some fraudsters who only care to make some easy money online. It seems that LargeFriends.com is a legitimate and honest business.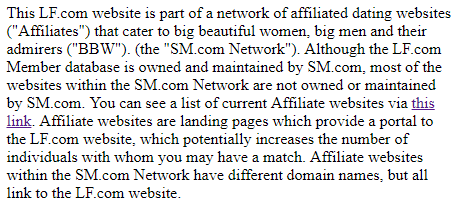 Price Tag
6-month subscription (about 

$15.95 / month

) or 

$95.95

3-month subscription (about 

$19.95 / month

) or 

$59.95

1-month subscription (about 

$1.00/per day

) or 

$29.95
Busted or Trusted?
You will find many verified profiles and users with real intentions to find someone and meet for fun or more. You have good chances to see what's going on in the BBW world. If you are a newbie, this site is good to check out your skills without paying a million bucks for something worthless.