This ClassifiedAds.com review turned out to be more genuine than expected. Naturally, you can never protect enough from crooks, fraudsters, and various online scams. But it seems that some of the content posted here comes from real people with real profiles. Some genuine business interests are there.
I did my typical research to separate the weed from the chaff and see if you can find casual dating opportunities. The result was not spectacular, but it was still not worse than many other disguised providers. Keep reading to find out more!
Classified Ads Review: Category Comparison
I took a tour around the site and checked multiple categories, even those that are not related to adult dating. My findings prove that some of the ads look authentic, although you can never tell for sure until you conclude a contract, sign the deal and complete the transaction. But judging only from the type of posted content, ad description, and profile authenticity, some of the advertisements are for real. As I don't intend to do a full investigation to guarantee for the whole site, I strongly advise taking all precautionary measures to prevent fraud. In my ClassifiedAds.com review, I will stick to the most common categories that interest my readers – casual dating and "women seeking men" options. I leave the rest to you!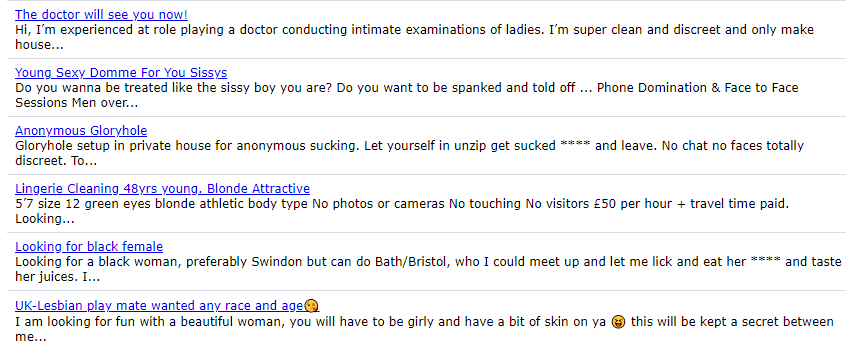 Casual Dating Ads
There is more than one adult dating category on ClassifiedAds.com. It's a full section with 7 to 8 subheadings. Unfortunately, most of them are just related to paid advertising of fake dating sites, which is obvious from the home page and other landing pages that are flooded with dubious adult content. However, I think I located a few isolated jewels in the "casual dating" section. It seems that some women there are really looking to get laid! The problem is there are no pictures. You can't tell what you're getting yourself into. If you ask me, that's too high risk to take, even if you are willing to go to the deep end and test the waters. Why not opt in for hookup alternatives that ensure some success?
Women Seeking Men
This category was even worse. I read varied ridiculous descriptions obviously coming from false profiles. But I also found a few lost souls who like to find dates. It looks like this is the preferred
Category for scammers to catch their prey and that some people are there by mistake or because they had no idea which category to choose. Some of the ads, on the other hand, are plain escort and brothel ads – you just have to own the eye to catch them in the plethora of content!
How Genuine Are the Ads?
From the time spent on ClassifiedAds.com, I would say that about 15 percent, if that much, of all ads, are real, especially in the "Personals" category. It's difficult to make assumptions about the other sections because I'm not an expert and because there are multiple locations included. Since anyone can post an ad on this site for free, it's no wonder it has attracted a bunch of shady characters. The final verdict is that it resembles the Backpage scam. You can even find it on the web listed as a backpage replacement site. Make it what you want, you definitely can't improve your dating life much by looking for hookups on ClassfiedAds.com!
What can help?
I thought you'd never ask! There are lots of things out there that can help improve your dating and sex life. For instance, I'd typically start with a range of sites dedicated to helping you succeed. Oh, and by that, I mean helping you have sex on the regular without having to spend lots of money. My advice would be to check out these legit dating sites and see what happens.