At this instance, our task was to discover if it is true that BlackCrush.com will be your personal online black girl hookup heaven to find black women who just "want to get it on" or get laid 100% with someone just like you. Although this site for dating black people promises success and claims that the dating platform is one of the best personals services for dating black people, our tour unveiled that the claims are fake and far from the truth – Black Crush.com is just a rip-off tool with several creative methods to make you spend your cash. Let's find out more about these methods.
Authenticity
BlackCrush.com is masterful in terms of marketing because it really knows how to emphasize average content and make it sound awesome and generous – here are some of the phrases used to hook users into thinking that their dream sex dates with ebony girls are just around the corner – "Get Action Guarantee", "New Members Daily", "Personal Matchmaking", "Private Friends Photos", "Award Winning Site", " Best in Class 2016" and several others.
You see, if we didn't investigate how much of the site statements are true and what is behind them, we would have based our review on the pics and the promises, thinking that juicy black girls are within minutes of reach.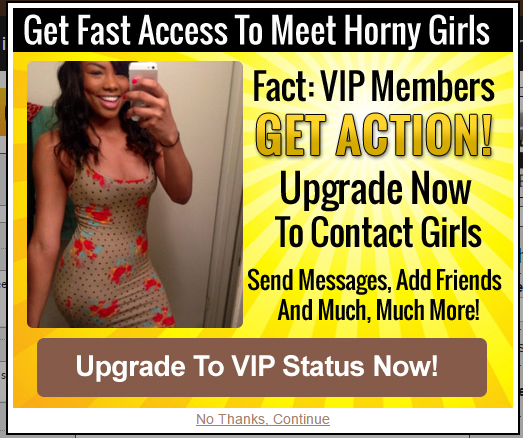 Why us BlackCrush.com a Fake Dating Site
The principle for luring new customers is the same, however BlackCrush.com just uses a number of links placed along the side or in the main dating page so that you think that you got the hang of it and start warming up for a hookup, while at once you discover that all your efforts are in vain because the site is not free at all.
Fantasy cuties are virtual profiles which BalckCrush.com uses to entertain users.
This is not an unknown practice of deceptive dating sites. Many use fake profiles with the purpose to create activity and generate content giving the impression that the site is way more active than it really is. Getting in touch with fantasy cuties is inevitable and you can join the site only if you accept their existence. You can get rid of them but only if you pay. So, the sole purpose of these phony profiles is to make you buy something. Here is what you are in for: "You comprehend, acknowledge, and agree that no in-person meeting will ever happen between You and the people providing Fantasy Cuties functionality, and that the interactions You have via Fantasy Cuties functionality is for entertainment purposes in addition to encouraging participation in our Service and to help monitor use of the Service."

BlackCrush.com sells porn content.
Although there is an XXX menu with options to watch the clips, you won't be able to see anything besides the thumbnail preview unless you upgrade. Try it – you get immediately transferred to the upgrade link. The tactic with the sex cams is almost the same.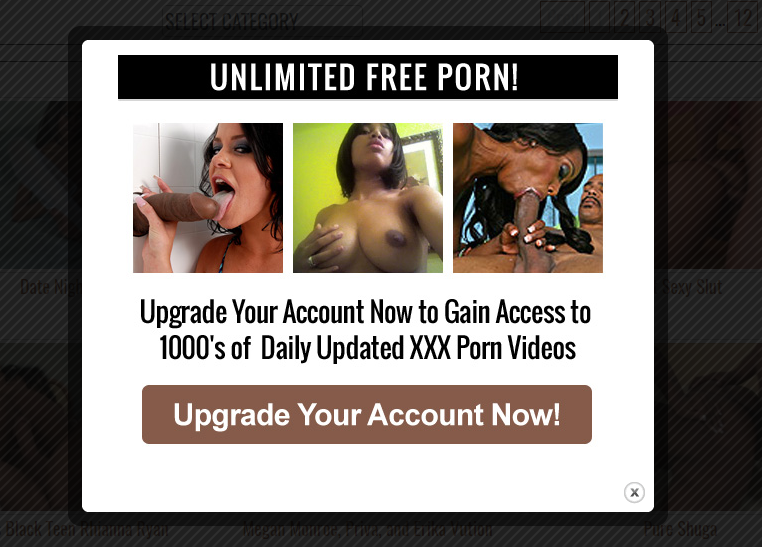 There is no free instant chat on BlackCrush.com.
Once we completed the signup process, all that we were asked to do is to verify the subscription and we already got a couple of messages from other members only on the basis of a few personal details, It is hardly unlikely that these were genuine profiles. It is way more probable that these are fantasy cuties. For instance, you can not reply anything unless you upgrade. This repetitive story is just another way to pay the fee – obviously, you are not going to get anywhere unless you take out your credit card.
Limited trial serves just for 10 messages and profile views.
Let us assume that you are not sure that you want to take a whole package and want to go for the trial deal. You just start chatting with someone (if it is at all a real girl, and not a fantasy cutie, because you can never be sure until you upgrade, and perhaps not even then, unless you disconnect the service) and you find out that you can only send ten messages – how much is that? It will be enough only to break the first ice and nothing more.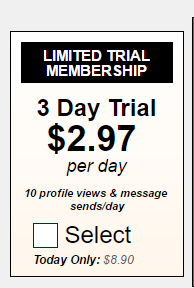 Price Tag
Platinum 3-day preview for $8.99  

One-month Vip membership is $29.95

Three-month Silver membership is $49.95

Six-month Gold membership is $69.95
Busted or Trusted
Unfortunately, BlackCrush.com is not very promising for you hookups with black girls. It is just another scam site that works around the same principle by using free incentives in several forms, such as virtual profiles, adult movie content and cam rooms to get you into the game.
The only thing that you are going to get here is numerous upgrade invitations. On top of all marketing, you will be not protected in terms of site safety and privacy because once you provide your data, it stays there forever and can be sold to anyone. Our verdict for BlackCrush.com is not in favor of the site.