While you may be quick to jump to conclusions that PersonalDateFinder.com is totally new and offers plenty of hookup potential, it takes only a few clever investigation moves to find you that there is nothing new here.
Moreover, you will see that is is just another copy of Local Booty which is a fact that shows up after the initial registration. It looks fresh and sounds good and original but it is not so. Here at Adult Dating Patrol, we don't let scammy site pull the wool over our eyes – we dig deeper to see what is really going all behind those promises.
Authenticity
When you get basic access you will be taken to Local Booty's dating center where all you can do is browse and search but actual communication with other members is impossible.
The scam strikes when you check the upgrade possibility, which is explained in the link. The upgraded membership includes "extra" services, such as sending and replying to messages, including contact info, getting priority rank in the search results, as well as viewing photos and profiles. However, what is really deceptive is the "no refund policy" by which you can get your money back under no conditions.
On top of that, you must be careful with the monthly fees because they can be suddenly changed without warning and you may end up paying more than what you have planned and expected.
Why is PersonalDateFinder.com an Illegitimate Dating Service
We have our strong doubts about some of the security mechanisms on this site. Check out our concerns below:
PersonalDateFinder.com is yet another subsite of Local Booty.
Several of our reviews and scams are connected to the main website of Local Booty so if you find out that the same dishonest methods work on all of them – don't get too surprised. Why would the same company use a new trick or invent bonus tricks when the old ones still work perfectly? Before you register, the homepage interface and the logo look completely different, with the PersonalDateFinder.com color and logo and information about the members. There is a quick turnaround to the situation once you submit your registration details.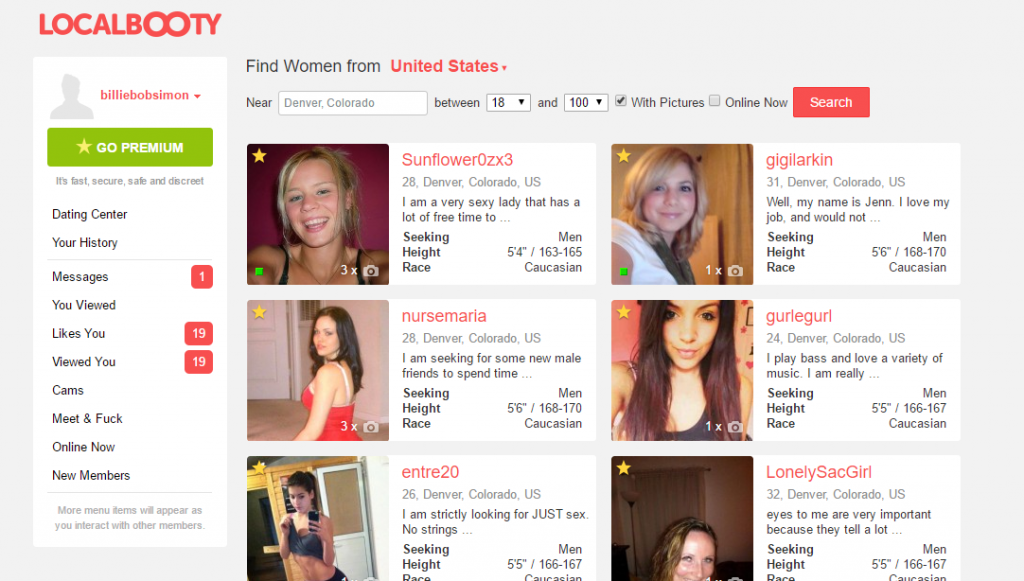 PersonalDateFinder.com uses confusing subscription fees.
The point is – you can subscribe under the initial fee stated on the upgrade page, but unless you follow all changed regulations, PersonalDateFinder.com reserves the right to charge you the first time and continue charging you with changes fees because you have agreed to the fact by accepting the site Terms and Conditions document which is mandatory for all members who join the site.

The site does not provide clear privacy rules.
Any respected and highly ranked site will offer at least some tools to guarantee your site privacy, and some of the best offer even more – several support teams and software backups. Here is what you can expect of PersonalDateFinder.com: "You agree that you have a severely diminished and attenuated expectation of privacy with respect to any information, files, or data you provide or upload to PERSONALDATEFINDER.COM or which is collected by it in association with your identity. In fact, you grant us extensive rights concerning them to use them all commercially."

There is no refund on PersonalDateFinder.com.
And here we come to the final but also most critical scammy tactic of this site where you don't have the chance to get a refund. Removing the possibility of a refund is not only a poor customer service value but it can sometimes be against the consumer's policy. Anyone can refund a service under specific conditions, so agreeing to his rule is highly dubious and speaks of not very honest methods of working on Personal Date Finder.

Price Tag
You have the options for two paid upgrades:
$59.95 for three-month subscription

$29.95 for the monthly subscription
Busted or Trusted
Would you really want to communicate with a site that is not providing any refund options or gives confusing information about how much it will charge you? No wonder that the web is drowning with poor customer reviews related to the Local Booty network – obviously more than one user has got the short end of the stick with some of the associated websites.
We can say the same goes for PersonalDateFinder.com, too. All in all, its poor security, customer support and privacy protection are not something that provides great encouragement into becoming a member.