If you have forgotten about Nautell, Nautell never forgets to work diligently and run their scammy business. This time, they pull the typical tricks with a hookup site called BangSociety.com using fabricated profiles called Love Stars and sending countless messages from bots just to activate you in a forceful way and make you think that you have entered a bang heaven. You know that it not the truth, right?
Authenticity of BangSociety
If you didn't have the chance to see that front page by now, you are either visiting Adult Dating Patrol for the first time or you have been blind when you read all reviews related to the dozens of dating sites and apps created by Nautell. By now, there must be fifty or sixty hookup sites created by the fraudulent company, and we are just watching for some new ones to crop up when the time comes. Here are the main components about BangSociety.com you need to keep in mind before you join and during your free membership.
Why is BangSociety.com Just Another Hookup Scam
"You understand, acknowledge, and agree that some of the user profiles posted on this site may be fictitious or models or bots related to our "Love Stars" ( ) program. Our LS work for the site in an effort to stimulate dialogue with users and to stimulate user participation on the Website and Services, advertisement of the Website and Services, and the creation of user profiles. The LS also monitor user activities and communications to ensure compliance with our Terms and Conditions. You understand, acknowledge, and agree that the information, text, and pictures contained in the LS profiles do not pertain to any actual person or member, but are included for entertainment purposes only."
The above quote is pasted from the Terms of Use on BangSociety.com. It is obvious that they place fake virtual profiles which monitor content, entertain users and send fake messages. The fact that they admit to this scammy practice should not be taken as a matter of alleviation. Make sure that you remember there is no guarantee that you are talking to a real person or that you will ever meet any of the Love Stars for that matter. They only send computer-generated chats, not the real deal!

Your Card is Preauthorized – Read: Charged Whatsoever
Just have a look at this and forget about free registration from the moment you give your credit card details to BangSociety.com and onward. Even though they claim they will not charge any fees when you give them the credit card details, that is obviously not true, which is visible from the paragraph below.

You Bear All Extra Marketing and SMS Costs
Not only you will get zillions of messages via multiple channels, but you also agree to pay the costs for them? BangSociety.com and Nautell conspire together to set you up for receiving messages and profile multiplication on their network of multiple websites.

Subscriptions Can Be Frivolously Cancelled at Any Time
You must be aware that BangSociety.com can cancel your free registration. So, if you joined without providing your credit card details, you are good to go. However, if you gave the critical bits and pieces necessary for processing the charges, open your eyes when the free period is cut off. It may easily turn into a paid membership!

BangSociety.com is the Master of Poor Reviews
Rarely do we see so many awful reviews topping the charts for a particular suspicious dating site. Usually, there are one or two that make the site some justice. In the case of BangSoceiety.com, all you can see are low-level titles, such as the ones on datingbusters.com, scoop.it, and even the video reviews on YouTube and Vimeo.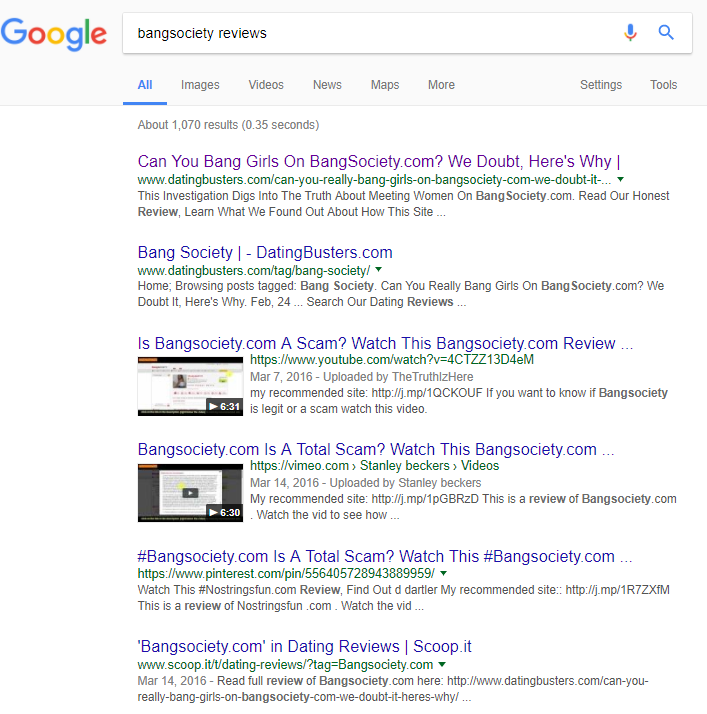 Price Tag
$2.97 for a 3-day trial that renewing at $39.95 per month
$29.95 per month for a one-month membership.
$74.85 for a 3-month membership.
$119.70 for a 6-month membership.
Busted or Trusted?
Don;t ever think that you can come across a site for hookup personals created by Nautell that offers great on-nigh-stands for free. They are a terrible scam, one of the worst around and have managed to pull many people into their web of tricks without even makin an effort to reply to many customer complaints. Unfortunately, your chances to get your money back once the pulled off the scam is next to slim. Due to the nature of Internet businesses, it is better to open your eyes before the deal!