When looking for the most convenient sex date, people typically like to meet someone living nearby. No one wants to date a person living a thousand miles away, no matter how good looking or likable that cutie is. When the prospect of dating becomes unrealistic, the hotness factor decreases, too. BangLocals.com wants to present like a site to find close neighbors for bang dates. However, it is only an annoying advertising platform with poor security and privacy features. You won't find your cute date here!
Authenticity
Most adult dating sites work with search and match mechanisms trying to hook up people from nearby locations because this is the easiest way in today's busy lives. So, people get used to it and they give high ratings to sites that provide great local matches. Unfortunately, not all adult dating providers like to devote the efforts they invest for honest purposes. BangLocals.com just uses a convenient name to lure new customers offering nothing in return. Most of the site content is used to advertise products and services and to attract as many innocent users into providing their credit card details.
Why is BangLocals.com a Fake Dating Service
Let us see why is BangLocals.com just a huge scam that should be avoided at any cost.
BangLocals.com has very limited data privacy and sells your info.
Kiss your intimate details goodbye when you join this fraudulent dating service. Any detail you give to the site is forever left to circulate for free in the online space. If you are smart, you should avoid sharing any intimate or private particulars with other members, or on our profile, or on social activity channels, or on subscription modules.

You are asked to submit a credit card for age verification.
Although the site claims it is free, you cannot use any of the features unless you provide your credit card details. This is the policy for charging your card after the initial trial period: "By completing this transaction you will receive free access to our premier member's area for a trial period of 1 days. Should you choose to remain a member and not cancel your account, we will automatically upgrade you to a full membership which automatically recurs at 39.95 monthly. Applicable transactions on your statement will appear as ancpay.com".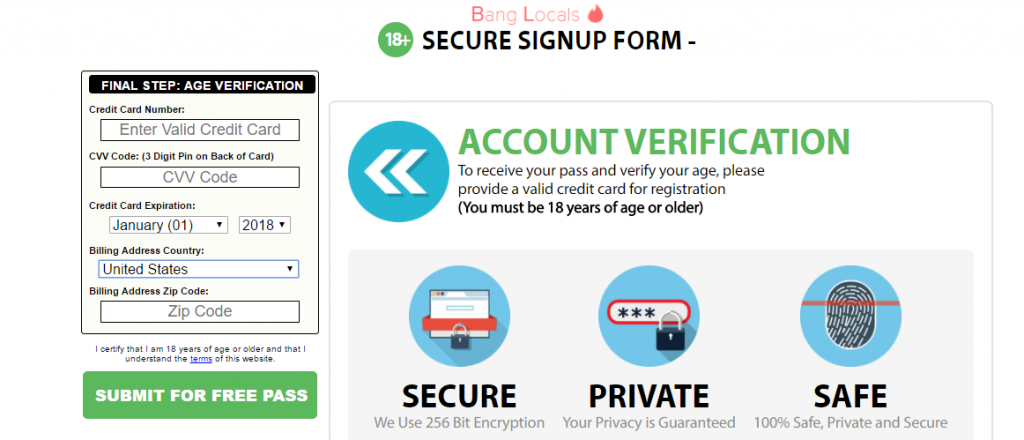 BangLocals.com will share your info with third-party providers.
You must understand that your date will be provided to other partners and site collaborators and that the site has no control whatsoever over these third-party partners that have their own policies, regulations, and way of collecting and sharing information. Here is a snapshot of that information:

Your messages are not private on BangLocals.com.
Let's say you start a chat message with someone you like. The next logical step is giving some hot and saucy hints to arrange a date, right? Well, you wouldn;t be so quick to jump into raunchy meetings and chats when you notice that your private messages are actually public. What you think you share just with a particular member, it is in fact shared with the public.

Price Tag
The site claims that it is free, but that is not the truth.
You are actually charged for $34.95 each month after the first trial one-day period.
Busted or Trusted
We must admit that BangLocals.com has one of the worse privacy policies ever discovered on adult dating sites, even if we consider all false services we have reviewed so far. It is like you are putting all your private stuff put there for anyone to see. No wonder that BangLocals.com has poor ratings in the online dating community. Also, it deploys the dirty old scam of promising a free membership which is later overcharged after the trial period is over. Watch out, stay safe and do not expose too much of your story – you will be up for a big scam!