Since its elimination in the original form, Backpage has shown in multiple disguises. I've seen dozens of websites carrying a similar name and concept. For some of them, even the design is almost identical. It doesn't take a big philosophy to understand that the point of these websites is the same. By looking at some of the features from this Backpage.ly review, you might even start thinking that the same people are behind Backpage.ly.
The system is the same – just paid sex work in thousands of different variants – that's what it looks to me!
Is Backpage.ly Just a Rip-Off Ad Platform?
Here is why you won't find any free casual dates on Backpage.ly – all links lead to commercial adult entertainment platforms. Many of them have been reviewed under the cap of Adult Dating Patrol and some of them received poor feedback. For example, many believe (including ADP) that the adult dating site Adult Friend Finder doesn't have genuine profiles. If you find many of the profiles on Backpage.ly there as well, what will your first thought be? Naturally, you should run and hide from scammers who are looking to trick you into paying for sex!

Live Escorts Webcams – Chaturbate
Backpage.ly features include links to live webcam rooms, such as Chaturbate and Bonga Cams. Those these providers are some of the better ones on the market, they definitely don't want to give your freebies. You know how they work – you have to but credit for the real thing – and it's still taking place only on-screen. You won't see the real deal off-screen! Moreover, some of the webcam providers explicitly forbid contacting the models outside the platforms.
Premium Local Escorts Link Takes to AFF
I don't see what does an escort site have to do with a dating site? This suspicious connection is another proof that both services have little integrity and that they do have much to explain. I doubt you'll find anything useful here.  
SecretBenefits.com – Sugar Babies Scam
I found SecretBenefits.com showing up on a number of so-called "escort sites". Sugar babies' sites are just a rip-off fake escort sites that won't land you even average-priced call girls, not to mention free hookups!
ADP Backpage.ly Reviews about Ads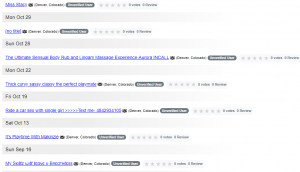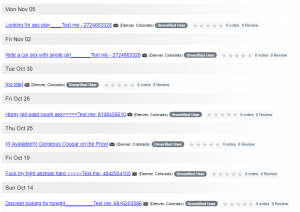 The final proof about the lies and false claims, as well as the make-believe profiles under the sections, don't need further investigation. I checked some of the profiles and their descriptions under the following different categories/
Dating

Female Companions

Body Rubs
They fall under completely separate sections. So if you want to search for a paid ad, you would find the same content for free classified ads. I doubt any of these are genuine. They are almost an exact replica of the ads posted in all three sections. I somehow think that a person sits and reproduces a bunch of fake ads to make people think that Backpage.ly is a busy compelling site. My opinion is that it will take your cash and provide really flakey content in return – nothing of which are free dating chances!
Backpage.ly Review Recap
Bakcpage.ly is similar to fake adult dating services. Including a variety of paid adult entertainment features, dangers lurk from many corners. It is linked to a number of poorly marked websites. Therefore, I'd advise extreme caution when arranging dates on Backpage.ly. Free or cash required, I would do several checkups before I decide to go for either of them!
My final thoughts are that this and any other alternative to the original backpage is a huge scam. I strongly suggest not using it and not hiring any escorts period. If you want tips on where you can get laid, then read the homepage. You'll find what you're looking for right there I promise.