Many people like the zing that the letter X brings into adult content. We believe that this is because the letter is related to juicy movies for grown-up people. And the "X" rating put to public content for sure raises the heat levels when people see it on the screen. XPickup.com is a site that promises to provide a potential for quick casual hookups. It seems just like the right place for followers who read our reviews. Because we've given up on finding real profiles on 99 percent of the hookup sites, we invest our efforts in helping other avoid scams.
Authenticity
XPickup.com is working with fabricated profiles who send computer-generated content. This site is using weird changes rules for the site documents and plays with the subscription fees. It actually takes so many ways to explain how much it charges, that even if you were a financial expert, you couldn't deal with the explanation offered by this service. You'll have plenty of problems with the membership regulations, the renewal, and the discounted rates. How do you renew them by subscribing for the normal rates?
Why is XPickup.com a Fraudulent Dating Site
Let's find out more about the ways XPickup.com works its fraud with the subscription rates.
You will be getting new rates without notices.
This is the quote from the site that targets regular people like you and me who don't have any better business to do but pay high rates, right? Wrong!
"When you subscribe to a Premium Membership, you do so under an initial discounted or promotional plan by which you pay a reduced price for an Initial Membership Subscription Period, which may be shorter than a Regular Membership Subscription Period. When you subscribe under such a plan, you agree to pay us, at the time when your Initial Membership Subscription Period ends, at the normal, nondiscounted, nonpromotional, higher, price ("the Normal Rate") for the next Regular Membership Subscription Period and to do so again on a recurring and periodic basis when that and all subsequent Regular Membership Subscription Periods end, unless this Agreement has earlier been effectively terminated in conformity with its provisions".
This means the following. Although you get your registration and your subscription for a normal rate, the total cost over a longer period of time is much higher. The renewed membership for some future months will be much higher because, at the time of registration, – you subscribed to discounted rates that last shortly.
You get computer-generated content.
Just as many other sites do, XPickup.com will send messages from virtual profiles. You must agree to them pestering you. If you don't agree – you are out! This should be the red flag for most people. But, it's beyond belief how so many don't consider this fact and still fall for the scam. Here is how that looks on the registration page: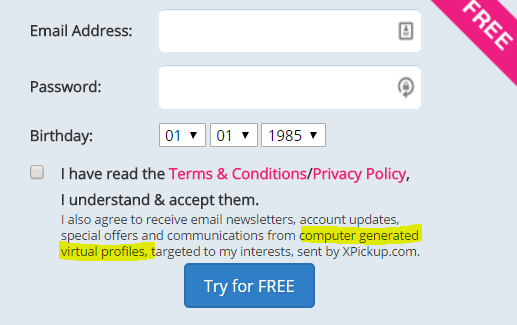 Your data may be compromised by third-party partners.
The outsourced services are always a potent resource for scams because they create their own rules. This particularly pertains to personal information. You may click and agree to anything that strikes your eye, but it can be used by the third-party partners in ways you don't know. Always be careful about giving personal details:

You must maintain an active email address and follow privacy changes.
You not only provide the email, but you must keep an eye of constant communication – you've got to be kidding, right? Also, the privacy rules are changed ad hoc – so you are the person responsible for keeping an eye to that:

Price Tag
One-month membership for $29.95 per month
Three-month membership for $19.98 per month
Busted or Trusted
XPickup.com is a scammy site with the classic fraud approach. We couldn't find any real reason why is this site worth checking out. It is not even active with software-generated messages or activity. However, it is active in creating convoluted regulations about subscription fees. So, the 20 bucks per month for three months paid ahead may easily turn into 30 per month at the end of the initial subscription period.