To get something for free, for life, sounds really good. Actually, it sounds so good that Nautell Limited has worked its way around it more than once, putting it as a catch for sites that work with mature women, as well as those intended for married people. We don't even keep a track record of all the reviews that we have done with the similar catchy scam, but there were more than a few. This time we are reviewing FreelifetimeCheating.com to see how it stands in terms of authenticity with dating sites in general, and how it stands within the Nautell network.
Authenticity
Adult dating sites which cater to attached people are countless. This is perhaps because these people rely on the discreet approach to online dating to keep it safe, private and easy to meet others who share the same open mind. We also assume that they are the target of dating scams because they keep it low profile and don't want to become too loud and raise their voice as consumers. But, wait a minute – isn't Adult Dating Patrol working on behalf of those people? Yes – it does.
Firstly, let's see how the site promotes its business to new users:

Is this really the truth?
A life of free dating is an option conceivable for anyone. "Even if it doesn't work, I have nothing to lose" – you could say that but only if you don't know how these scams work. By now, we are sure that you have learned something, but if you haven't digested all details, have a look below for more about the fraudsters at FreelifetimeCheating.com.
Why is FreelifetimeCheating.com an Adult Dating Scam
FreelifetimeCheating.com uses virtual profiles that are not real persons.
Without beating around the bush, this site tells you that they will be selling you services managed by bots and that you have no other option but to accept it. Those fake women send instant messages and emails pestering you with questions. Here is what is their task in more details:
"You understand, acknowledge, and agree that some of the user profiles posted on this site may be fictitious or models or bots related to our "Love Stars" ( ) program. Our LS work for the site in an effort to stimulate dialogue with users and to stimulate user participation on the Website and Services, advertisement of the Website and Services, and the creation of user profiles. The LS also monitor user activities and communications to ensure compliance with our Terms and Conditions. You understand, acknowledge, and agree that the information, text, and pictures contained in the LS profiles do not pertain to any actual person or member, but are included for entertainment purposes only."
And here is the registration page, where is becomes obvious that you must agree to the virtual profiles called "Love Stars" before you get access: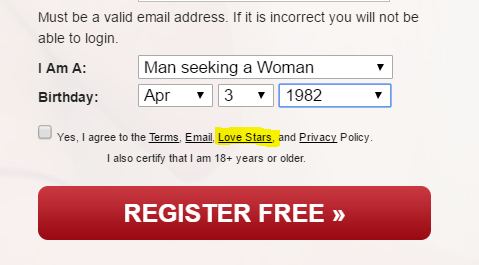 FreelifetimeCheating.com will immediately ask for your card details. 
Wasn't this site "free for a lifetime"? Then why do I need to give them my card details? Valid and good question. It is because they need it for a scam, that is why. If you have a look at the small subscription box on the right, just below that ebony cutie, you will notice that the registration and the extra services that you are paying along the way. Instead of a free deal, you actually overpay about a hundred dollars a month.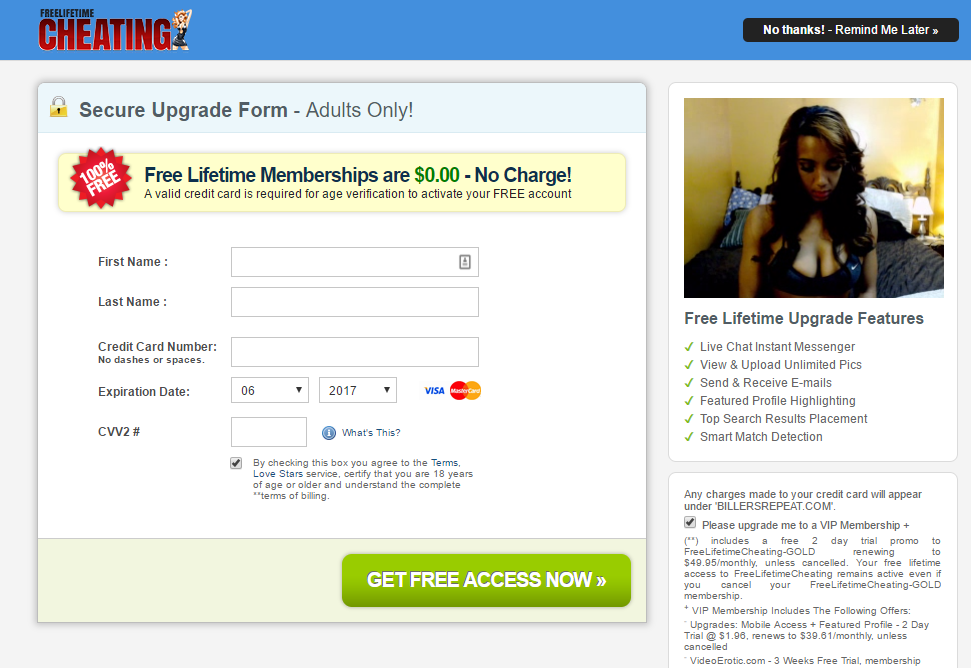 There is no way to communicate without an upgrade
Let's assume you opt out from that upgrade – because you can click the "no, thanks" button and visit the activity center. When you start chatting there is only a limited number of messages you can send for free, and the emails are paid in full. Just as you get warm, you will be prompted to get an upgrade. So, you are back again on the upgrade page and the same story goes on and on with sending tweets and likes.it just keeps you running around in circles:

Price Tag
$49.95 for a monthly subscription to FreeLifetimeCheating.com
$39.61 for a monthly subscription to Vibe Video
$28.87 for a monthly subscription to Video Erotic
Busted or Trusted
Nautell scams are truly unprecedented. They just mold and copy sites, adding a few new details. They even use the same front screen by just changing the name. By now, we do not need extra persuasion to get to the "busted" verdict. Obviously, the site works with the system – let's give it a go – if it works, it works. And if it doesn't, we are in the clear because we have included everything in our Terms and Conditions document. The verdict is tough on FreelifetimeCheating.com – don't get cheated!