Investigating XMilfs.com didn't take much time. Once we encounter the fantasy cuties, we know what's the business. This is one well-known and well-established online dating scam, typically involving the "X" prefix and the computer-created profiles with multiple payment methods. Let's see what is new and what is old in their tricks.
Authenticity
Have a look at this snapshot of the front screen – you will notice the fake profiles fantasy cuties in the registration line, But – only if you pay attention to details, otherwise, you are roasted by the site!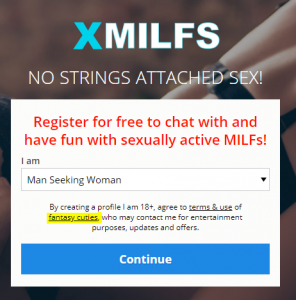 Why is XMilfs.com an Adult Dating Scam
Here are the main suspicious reasons why we don't trust this dating website targeting guys who like milfs and cougars:
Fantasy Cuties for Amusement Purposes
Almost all profiles are fabricated. These fake girls are all over the member database and start sending you messages made by computers. Your inbox is full, but there is no way to find a real person there.

X.Milfs.com's Instant Messaging Tokenization
You will need to use your subscription to purchase tokens to be able to use the instant messaging system. Otherwise, you will be excommunicated and powerless. Your free registration will be worthless.

Computer-generated Messages in Your Inbox
XMilfs.com uses computer-generated messages sent by the fake women. So, not only are the profiles fake, but the messages are also false and produced by software, just as with all other sites connected with the network.
Paid SMS Programs Use Tokens
You need to use tokens for the SMS system. This is a special system that will go out of the regular texting. You need to register via a separate platform and again buy these tokens to be able to use the SMS platform.

Price Tag
$8.90 for a 3-day trial to this website.
$29.95 for a 1-month subscription.
$49.95 for a 3-month subscription.
$69.90 for a 6-month subscription.
Busted or Trusted?
Even if XMilfs.com is not that expensive with the subscriptions, the added services can be a ripoff! In particular, if you take into account that the chances of meeting a real person are slim and close to non-existent!