I can't take a break from doing reviews by so many people using the X letter scam putting it in front of various sexy or hookup words. It's a great catch and one that obviously works well for fraudulent companies because they love repeating it. XCheaters.com combines two attractive trends in the casual sex industry. The second component that brings members in is the cheating buzz, and we all know that many people join adult dating services exactly for the reason to have an affair.
Can You Trust XCheaters?
Are you hoping to meet someone on XCheaters.com?  I'm sure you do but it seems that your chances on this website are slim. I'm not sure that this is some sort of counterintuitive psychology, but the service doesn't take any responsibility for you finding a date here. As far as I know, most websites give some sort of assumption about your dating prospects and many even offer guarantees or refunds. Well, this is not the case on XCheaters.com, which is evident from this visible presentation:

Why is XCheaters.com an Online Dating Fraud
You must agree to computer-generated content.
This is a strategy for creating an active site when there is not much activity on there. The company uses software to create multiple messages to be sent to all new users so that they buy one of the premium memberships. At this point it is very clear that this site is not free. The messages are sent like coming from genuine people while they are automated. You must agree to tolerate that from the start itself: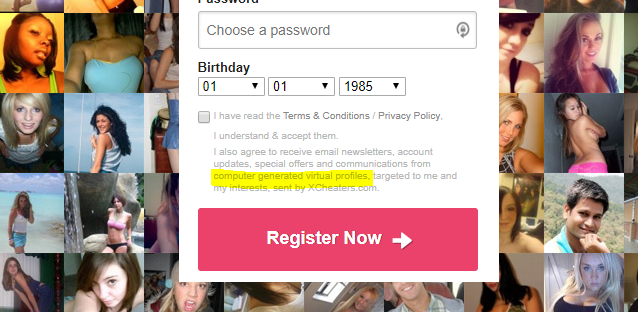 Your premium rates may go higher and you must agree to changes.
It turns out that you have subscribed under one rate and that you may need to pay for others because XCheaters.com keeps the right to make changes at any moment they want and under any condition they want. This is an excerpt from the site regulations:
"When you subscribe to a Premium Membership, you do so under an initial discounted or promotional plan by which you pay a reduced price for an Initial Membership Subscription Period, which may be shorter than a Regular Membership Subscription Period. When you subscribe under such a plan, you agree to pay us, at the time when your Initial Membership Subscription Period ends, at the normal, nondiscounted, nonpromotional, higher, price ("the Normal Rate") for the next Regular Membership Subscription Period and to do so again on a recurring and periodic basis when that and all subsequent Regular Membership Subscription Periods "

You do not have a right to a refund.
Unfortunately, this is another fake website that thinks they can forbid refunds. However, you must be careful because when you pay on the Internet the company can come from various resources and geographical locations which may not use the same rules you are used to – here is a quote:
."THE PURCHASE OF A SUBSCRIPTION IS NORMALLY NON-REFUNDABLE, EXCEPT IF OUR CUSTOMER CARE DEPARTMENT WOULD DECIDE THAT A REQUEST FOR A REFUND IS JUSTIFIED. Once purchased the Membership subscription has no monetary value and only entitles you to use of the Services we provide for the Membership Period. In addition to paying the published price, you are responsible for paying all applicable taxes in connection with the purchase of the Membership subscription."
You grant all rights to XCheaters.com to use your content in multiple ways.
If you give your profile information and decide to upload photos on XCheaters.com, I suggest you do it very carefully. Everything that you upload is not yours and intimate anymore. It becomes s property of this invasive website that has nothing better to do but use that content for making the site better.
"With the exception of personal financial and billing information, you hereby grant to us a perpetual, unlimited, royalty-free, worldwide, non-exclusive, irrevocable, freely transferable, license to run, display, copy, reproduce, publish, bundle, distribute, market, create derivative works of, adapt, translate, transmit, arrange, modify, sub-license, export, merge, transfer, lend, rent, lease, assign, share, outsource, host, make available to any person or otherwise use, any information or other Content you provide, upload, or transmit, on or through the Services we provide or which is sent to us by e-mail or other correspondence, for any purpose whatsoever."
You are responsible for payments endorsed by third-party providers.
This is the last great risk that you must pay attention to when you join XCheaters.com. All services distributed via companies that work in partnership with the main site have their own regulations, especially when it comes to processing the payment. Unless you want to dwell into confusing overpayment and get stuck, be very careful with how you click links:

Price Tag
1 month is $29.95
3 months is $59.95
6 months is $99.95
Busted or Trusted
Now that I have explained the five key facts about XCheaters.com that expose the big fraud, I doubt that many people will choose this scam as their preferred option for dating. Don't get cheated by XCheaters.com – be the smart one and don't say yes to that computer-generated content!