When women become moms, life can get boring and sex can get dull. So, moms become one of the more present and, at the same time most wanted, even favorite dating groups. Who wouldn't want to date a hot mommy? No kills, just chills and drills because there are no real dangers of commitment and turning the hookup into something serious – just what all members of adult dating websites want! It is thus no wonder that many fraudulent companies play the field for this special category of milfs and invent new rip-off techniques to get your money out of your pocket? One option you might think of is SluttyMommy.com. However, I am here to tell you that might not be your best idea.
Authenticity
SluttyMommy.com has most of the features of adult dating websites, even those that are unpopular since they can be easily mixed with the site's main purpose, such as webcams and paid SMS services. You should be extremely careful when you are dealing with SluttyMommy.com not only because the danger for getting ripped off lures from every corner, but also because there are a plethora of unnecessary services. Let's have a look at the "splendid VIP offer" included in this dishonest dating service:
Viewing all profiles and photos
Sending and receiving unlimited SMS
Live Video Chat and 1-on-1 chat
Appear in all search results
Watch live models and VIP Videos
Adult Games and excellent customer support
All this that looks so great and rich is just a way to extort more money from you.
Why is SluttyMommy.com an Illegitimate Dating Site
SluttyMommy.com uses Fantasy profiles – ONLINE CUPIDS:
"You understand, acknowledge, and agree that some of the user profiles posted on this site may be fictitious and operated by the Site or its contractors. These profiles and related messages are conspicuously labeled with the Online Cupids logo… Our Online Cupids® service is part of Our efforts to 1) monitor the use of Our services, to enforce Our policies; 2) educate users regarding the Site's various features, options and communication tools; 3) stimulate conversation with users; 4) and to encourage further and broader participation in all of our Site's services, including the posting of additional information and/or pictures to the users' profiles".
The above quote from the site's Terms of Use explains the task of the Online Cupids in detail, at least as far as the most important deal is concerned. There is plenty of the rest of the provisions that would be useful to read and let me assure you that you won't be wasting time doing that. It is a great proof of the site's fakery and dishonest intentions. Disregard the fact that you are dealing with fabricated profiles and you are roasted. There is no way around them – have a look at the registration page: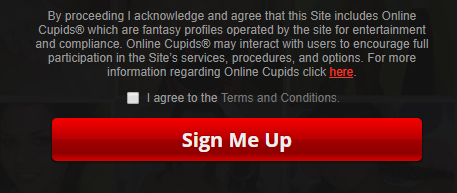 Your subscription box is prechecked for alternative services:
Do you want to buy cam tokens or adult content on a site that is for dating? Why would you do that? You are here for the real deal and not for the virtual world! Obviously, SluttyMommy.com creators know that you are not going to get laid on this fake dating site with fake women so offer alternatives, such as cam models or 3-month guarantees for those who don't get laid. The guarantee option is just a bumper for those who decide to pull out of the deal, creating a sense of an extra gift – in fa, t a ripoff!

You are buying cam credits on SluttyMommy.com.
This is just a continuing trend of the above bullet – again a way to spend more as you buy more of what you don't need, such as cam room services. Just a thought – this is not published along with the dating registration – you will get to know about this option if you browse through the FAQs, which is pretty much overdue, if you ask me, to find out the truth about the real deal on SluttyMommy.com:

There are no guarantees for security when using services via third parties.
Here is the concrete provision as presented on the site:
"You further acknowledge and agree that Publisher shall not be responsible or liable, directly or indirectly, for any damage or loss caused or alleged to be caused by or in connection with use of or reliance on any such third-party content, goods or services available on or through any such website or resource. If You decide to access any such third party website, you do so entirely at Your own risk and subject to any terms and conditions and privacy policies posted therein."
There is no way you can tell that a service or a product is offered via a third party. In essence, as far as I can tell, the payments are also completed via a third-party agent and can present a risk in this aspect. You are unprotected and on your own on SluttyMommy.com!
Price Tag
Trial membership is $2.95
One month membership is $24.95
Three-month membership is $69.95
Busted or Trusted
Another point that I would like to emphasize at the end concerns the membership fees mentioned in the Price Tag section. I was very careful with registering for this site and opted out before the payment. You know what was the offer? A thirty percent discount! So these fakers evidently want to extort as much money from gullible newbies as possible, and then collect the leftovers from someone who is not that giving. I strongly suggest reconsidering your membership at SluttyMommy.com.