Sometimes, my ride through the world of adult dating is not an easy one, and I have to take care not to end up on the wrong side of the "fake or real" debate.This was the case with Passion.com adult dating, as I was convinced that this is a genuine adult dating site until I started getting more into detail and exploring the tricks of Passion.com that works more like a shopping center than like a dating site – be careful that you don't get too far ahead of yourself and pay for something that you have not ordered.
Authenticity
Just from the start, Passion.com looks like a decent dating site, until I started reading the messages in my inbox that looked like everything else, but not like chat invitation or like anything hinting that I am going to get laid soon.
My inbox actually started looking a lot like a regular inbox, and it assured me that Passion.com is just looking for new victims to sell them various products instead of hooking them up with someone to get a bang date.
Why is Passion.com a Scam Dating Site
If there is one thing that makes me certain that I am dealing with scam methods is the quantity of commercials, products, campaigns and everything else that sells on this adult dating site.
Passion.com sends promotional messages in the inbox.
You will get all selected offers to you promoting specific site products and other campaigns, so I wonder how come that happened, when all became clear once I read this part of the Terms and Conditions: "We have no control over and are not responsible for the availability of any such Resources, and we do not endorse any advertising, products or other materials on or available from such Resources. Because we cannot control the activities of such Resources, we cannot accept responsibility for any use of your personal information by such third parties, and we cannot guarantee that they will adhere to the same privacy and security practices as us".
The site bursts with advertising.
Half of the site is covered in commercials, whether you want a penis enhancement (no, thanks!), or other tips or links to the live rooms, anything else that can take you to pay some money, opening your wallet, and not get a hookup with someone else. This is a shopping center, and even a basic message can not be sent for free, but has to be paid (check out the quotes below for costs and see if there is a chance to go without falling prey to the deceitful tricks made by Passion.com. Not to mention profile position upgrade or other services like adult movies on demand!
Passion.com features live models.
Live models together with adult dating? Which one is it? When the chat window, the inbox, and the live model rooms are next to each other, it is very easy to get confused and click one instead of the other. This is just another suspicious trick used by Passion.com to mix up your head, so that you end up using a paid service provided by a model. Instead of a real live chat with a woman of flesh and blood with whom you actually have a chance to get sex, you will talk to a computer. 

One other proof of the false policy of Passion.com is the use of paid chat rooms – this is a similar aspect to the one I mentioned before – stay away from added services that actually charge for any site feature that you use separately. It just seems like you are swiping the card endlessly, paying again and again for what needs to be free, or, in the worst-case scenario, charged with a periodical billing service, so that you know you can communicate without limits for as long as you want to, taking your chances without caution.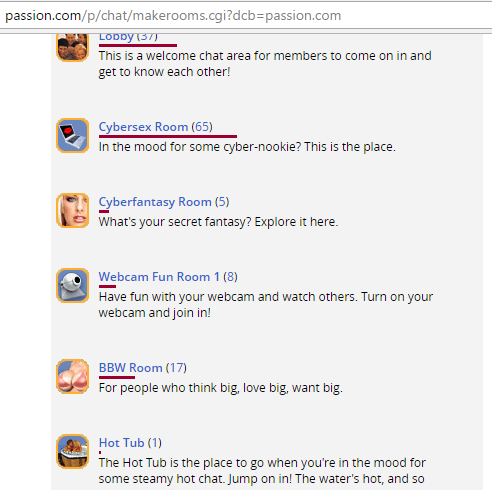 Gold membership and profile highlight lure into upgraded payment and automatic renewals.
Normally, basic is not enough for the shameless extortion tactics applied by Passion.com – the ultimate rip-off of all sites, charging more and more for upgraded services. The newest scheming includes the Profile Highlight so that you jump a few places ahead and join the army of naive users who think that paying more will actually expand their chances of getting laid more often. However, in the world of adult dating roulette there is no such a thing that you will get laid for sure. The only sure thing at Passion.com is that you will be ripped off for sure.

Price Tag
The ultimate rip-off with four ways to turn you into a beggar:
Gold Memberships: 
12 months for a total of $179.40
3 months for a total of $59.80
1 month for $19.95
Standard Contacts:
12 months (Total at $107.40) or $8.95 a month.

3 months (Total at $35.90) or $11.97 a month.

1 month (Total at $19.95) or $19.95/month.
Profile Highlight:
3-month (Total at $26.85) or $ 8.95/month.

1-month (Total at $9.95) or $ 9.95/month.
Movies on Demand:
3-month (Total at $38.85) or $ 12.95/month.

1-month (Total at $18.95) or $ 18.95/month.
Busted or Trusted
Need I say more, judging by the above?
I am sure that you agree, that this adult dating patrol didn't have a difficult job today and what started as a genuine thrill for a genuine adult dating site turned into the rotten fraud of the decade, featuring innovative ways to take your money by selling you shiny tin foil and nothing much else, certainly a very questionable database of dating members.