MyDirtyFling.com requires from you to state that you are an adult before they let you join in. In all those permissions and flashing green and red buttons, you may not notice that you must agree to fantasy profiles before you are allowed to get in.
Why is MyDirtyFling.com a Fake Hookup App?
The reasons for putting these scammers into the illegitimate dating apps is not only that they belong to Connectivity Development. The fabricated profiles are the top reason.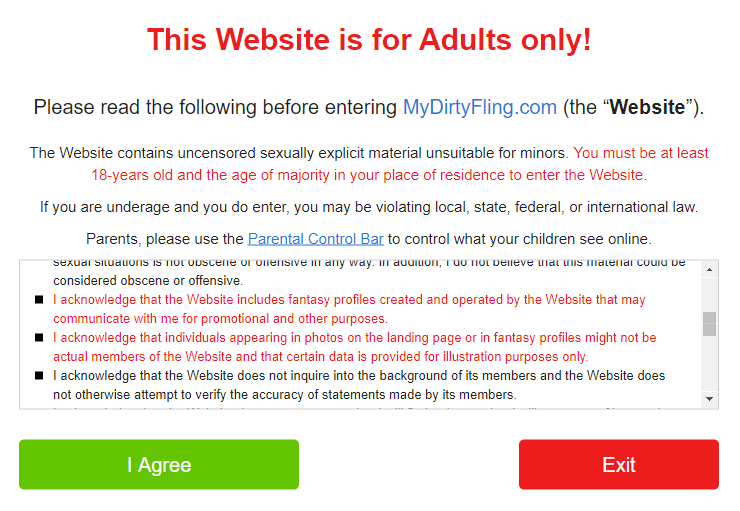 Let's look into more details about how the deceptive system works.
Fantasy profiles send you messages.
The fake women are created by computer programs. On MyDirtyFling.com they are called fantasy profiles. The name says is it all, doesn't it? You don't even need to read the Terms of Use, but if you do, you will find out more about the technology behind the fraud. The story applies both to the website and to the hookup app.
One place they don't do that is on the REAL fling.com app.

No responsibility for third-party links.
MyDirtyFling.com collaborates with a network of other providers. They have their own policies and rules. You shouldn't rely on what you've seen or read on this website. Risks can come from many additional sources which have nothing to do with how things stand on the main website. And it's not like the use on the main website doesn't pose any dangers. When your chances of meeting a real person are slim to none, all that you are going to get is high fees and chat with computer bots.
Credits for communication.
The services on MyDirtyFling.com are paid with credits. And they are quite pricey, too
If you aren't sure how much you will need to pay, check the additional section related to the credit packages.

Cost to Join My Dirty Fling
10 credits equal 10 messages for the price of £15 (£1,50 per message)
25 credits equal 25 messages for the price of £35 (£1,40 per message)
50 credits equal 50 messages for the price of £65 (£1,30 per message)
100 credits equal 100 messages for the price of £120 (£1,20 per message).
200 credits equal a series of messages for the price of £200 (£1,00 per message).
Our MyDirtyFling.com Review Grade: "F"
Don't let that main opening screen fool you into thinking that you are entering a dating platform that is not appropriate for younger people only because it has a bunch of dirty stuff. The dirtiest secrets of the site are connected to the dirty works of the company behind the site. That's the only reason why it's deserving of the name.