We meet again with the shenanigans of Festivus Media and their extensive network of scamming adult dating services connected to hookups with older ladies. They have a rich offer of those copycat websites that work with the same fraud method while changing the homepage, the website domain, and some of the side features and colors. All aspects of LocalMatureClub.com have been previously covered in our other reviews of sites for mature casual dating. Among the sites associated with Festivus Media is the website we are dealing with today.
Most of the deceitful tactics of LocalMatureClub.com are elaborated in the Terms of Use. But you must know where to look. Nonetheless, most users just scratch the surface of this document and don't notice that there are traps ahead. The most important fact you need to remember about LocalMatureClub.com is that you will hardly find real chicks – all those photos you see are just stock photos. If you do your job of reading the Terms and Conditions, you will notice that the site creates fictitious profiles to entice you to buy basic subscriptions and additional credits.
Why is LocalMatureClub.com the Worst Adult Dating Scam
One good thing about LocalMatureClub.com is that they don't lie about paid memberships, saying that you'll be using the site for free. However. All you get is a free registration and nothing more – that's the bitter truth. Not only will you need to purchase a basic subscription but you will also need to purchase messaging credits. For now, let's examine the virtual profiles
LocalMatureClub.com Creates Fictive Profiles
This fraudulent website that belongs to the Festivus Media network clearly explains that its purpose is not related to arranging sex dates, helping you find casual dates or get laid. Its sole purpose for existence is – entertainment. By entertainment, they mean sending you annoying emails and messages from fictitious profiles never finish with a real date. They send you promotional offers, patiently waiting for you to get the hook and skip the tiny important detail of fake profiles.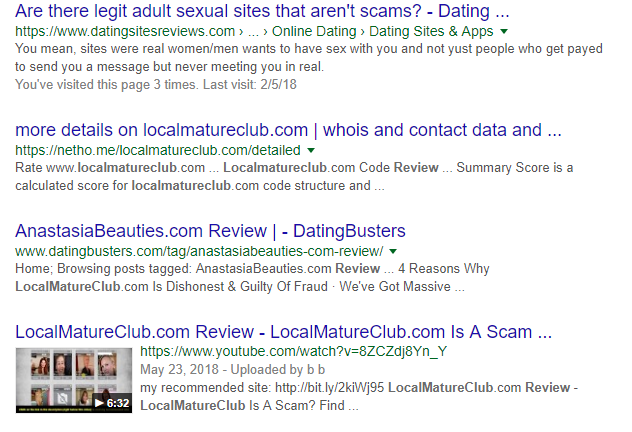 Purchasing Expensive Credits for Sending Messages
You've read that correctly. You need to pay extra fees to use the instant chat. Now, let me ask you a simple question – what's the idea of getting the initial subscription? Why are those rates stated in a way they are? Do LocalMatureClub.com's creators really think that you're going to believe them? It seems this is why the basic rates are cheap – because you need to pay additionally to get in touch with a member. An additional problem is finding someone real here – all those stock photos and fake profiles exist to cover up the tracks on poor activity.
Risking Your Privacy and Security
Make sure you remember this: you're giving the right to LocalMatureClub.com to distribute the data you're providing them when you sign up for their services. This information includes your profile details, images, as well as everything else that you're uploading on the site. Also be careful from sharing too much information with third-party websites, affiliates, and other members. There is no way to protect against fraudsters and you will be individually responsible for all that you do on this hookup site
Price Tag
8 credits are 

£

7,99.
25 credits are 

£

22,49.
50 credits are 

£

39,99.
100 credits are 

£

79,99.
300 credits are 

£219

,00.
Busted or Trusted?
Look for all other reviews that contain the tag of Festivus Media to understand more about the extensive fraud they're organizing on their network. They are focused on mature and cougar dating, since they know that many younger and older guys like dating milfs and will easily get hooked on such websites. Keep your eyes open when you notice a hookup app or a site that uses credits. As far as we know, almost all of them are huge scams with no chances of real dating.