Today we have a fresh product among the stale dating websites. Jaumo.com is a German hookup app available from the Google Play and the App store with over 10 million downloads. From what we've investigated and from the user feedback, Jaumo.com looks promising and will be able to deliver what you want in your casual dating life. Specific interactive features include location shares and digital purchases. The newest upgrade offers the live video options to its users.
Why is Jaumo.com a Legitimate Hookup App
If you make a tour on Jaumo.com's website, you will gather plenty of useful information that cannot be found in the app itself. This is mainly because the apps are accustomed to serving the direct user experience. Rich information about the history of a dating app, its features and policies are typically available from the website. We believe that Jaumo.com is legit.
Jaumo.com is a Trademark of an Open-Profile Company
Fraudulent dating apps include only shady information about their companies or their contact details. On Jaumo.com you will be able to find multiple sources of relevant information about the founders. In addition, you'll get to see how the company operates in more detail. Amusing as it may sound, you'll see the profile pictures of the creators. The extra lesson includes details about other trademark names related to Jaumo.com:
Lovelyapp.com

Youlove.it

Curly.me

Getfinally.com

 Etjoyrideapp.com

Disco.dating

Spicy.love

Hayat.im
Jaumo.com Has a Comprehensive Security Policy
If you want to read more about all the ways in which this hookup app protects its users, you need to read the following sections from the Terms of Use: Section 4, Section 9, Section 12, and Section 14. Each section has particular details about that and about the liability of users:
8: Data utilization and Data protection

9: Liability of JAUMO

12: Electronic attacks

14: Inclusion of third parties
Relevant Dating Tips and Dating Blog
From our experience, not many casual dating sites provide dating blog. In fact, this rarely happens. Some offer forums or blogs with poor content, but this is more an exception that just confirms the rule. Once you visit the blog on Jaumo.com, you'll immediately notice the difference. The blog is rich with fun and relevant content that offers a fresh perspective on how to spend your online dating time.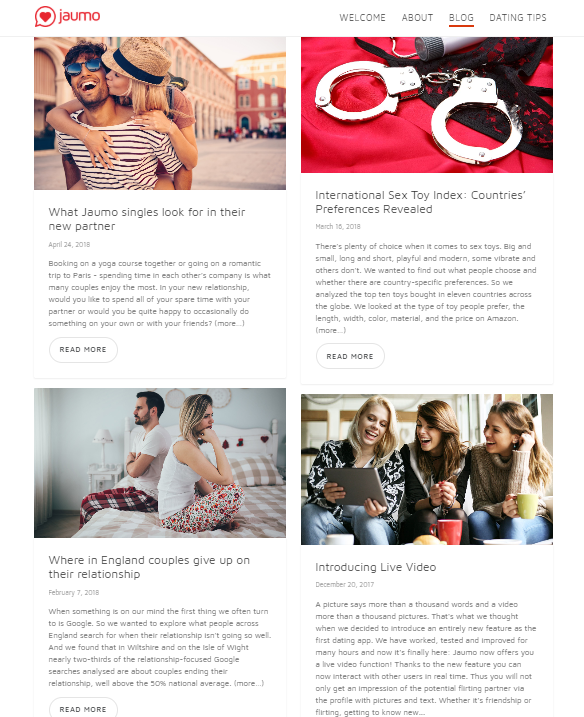 Price Tag
$12.99 for 250 coins for the basic membership
VIP status is extra 90 coins per month for all services.
Busted or Trusted?
Jaumo.com spices up the conventional dating word we've got used to. It's not flaky or boring. Moreover, it provides diverse proof of its legitimate services. This hookup app has some of the best internal and external security mechanisms. If you are still wondering whether you should give it a go, don't. Once you figure out the simple interface, you'll have no issues. Instead, you'll meet with likeminded people who are looking for the same as you are.