Non-secures websites for casual sex are one of the worst traps out there. You never know what kind of dangers lurk behind the features. What can you expect in the case of HotLocalGirl.com? Well, you get one-by-one questions in a row with nude pictures of girls asking you to join in. Without knowing anything about the site this is what happens: When you land on the domain name and after you answer these questions it is cleat that Xdating.com is behind HotLocalGirl.com  – it is just a hoodwink for Xdating.com.
Authenticity
Unfortunately, nothing is authentic in regards to HotLocalGirl.com. This becomes painfully obvious once you fill out your basic registration details and in just a few clicks, get delivered to the database of XDating.com. We've already written a review on XDating.com explaining its all fake elements: the fake profiles and the computer-generated messages. However, here is again in this review a short overview of the features on XDating.com, just to keep you up-to-date with the possibilities of landing a  new scam on HotLocalGirl.com.
Why is HotLocalGirl.com Just One Huge Scam?
Let's go one by one and explore the fraudulent methods used by HotLocalGirl.com, so that you get an idea of what happens on the site
HotLocalGirl.com Uses Fake Profiles Called Online Emissaries
The virtual profiles created on HotLocalGirl.com aka XDating.com are called online emissaries. The "online emissaries" are typical names for calling the fake women produced by DatingFrame.com. Any website associated with this company uses them. The service behind them includes bots that entice users in, chat them up, send them sexy messages and encourage them to upgrade.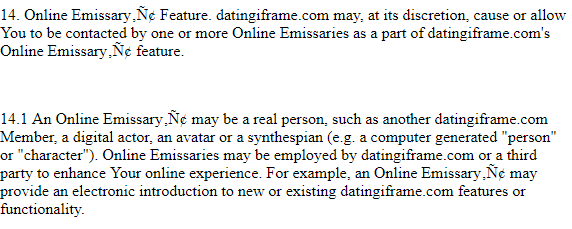 The Online Emissaries Send Digital Messages to Enhance User Experience
Once you get on the registration page and complete the registration, you are in for the members' area.The members' area is full of nude pictures of various girls and women who offer a couple of photos, sexy profile descriptions, and the star symbols. Stars are put on the profiles of Online Emissaries. If you start chatting up some of the profiles, you won't be able to send the message or text the reply unless you upgrade. You need to go immediately to the upgrade screen. The same goes whenever you try to communicate with a profile that has the star symbol.

Release from Liability in Regards to the Online Emissaries
Not only you don't have any chance of arranging a date or meeting someone in person, but the site has a provision which releases the company from the liability associated with the Online Emissaries. It's like they are a separate element of the webpage, disconnected with the services of DatingFrame.com. Look at the following screenshot to see the provision in the Terms and Conditions outlining this tactic. I am really not sure how arrogant someone can be to be able to pull this off, but it happens.

Price Tag
The 3-month membership is $19.98 per month
The 6-month membership is $14.95 per month
The 1-month membership is $29.95 per month
Busted or Trusted?
It's comforting that the fees are not too expensive. You're not getting pre-checked boxes on top of the basic subscription fees. However, that doesn't mean that you're free to try and test this dating website. When you land on HotLocalGirl.com you get the non-secure website sign. This is a total risk to your profile data or anything else you give or upload on that site. So, apart from never being able to reach out to real women and exposing yourself to security risks we have nothing much to add.