Have you thought that you can find an online dating site that will offer you just what you're looking for? If you're into sports, or if you're the athletic type, or if you like people with good physics and someone who has a lot of energy and is in for an excitement just as you are then Fitness-Singles.com will be the right website for you. It links members by their sporting preferences. They have uploaded a long list of almost 100 sports you can choose from to find a compatible match. It looks like people are very happy with what they find here. Let's find out what's happening on Fitness-Singles.com.
Why is Fitness-Singles.com 

a Genuine Dating Service
The most important reasons why we think that Fitness-Singles.com is genuine is because it doesn't deploy any of the typical scamming methods of fraudulent dating websites. We couldn't find any fake profiles or any fake messages. Moreover, we couldn't find computer-generated content or multiple commercial features that can be sold to users that don't have much experience on hookup sites. We can trust Fitness-Singles.com that uses great guarantees to prove it does anything possible to help you find a date. We're only taking out three of the main reasons to explain why this site is genuine and can help you get laid.
3 Top Reasons for Finding Dates on Fitness-Singles.com
1. Confidential and secure
It's a true rarity to find a website that promises some sort of confidentiality on the dating platform. Usually, they say that there are no guarantees. But Fitness-Singles.com has site regulations that state that they only shared the minimum information necessary for a certain action to be completed. They put boundaries on what they share with their partners. So you can be sure that you if you're exposed to arrisk that's only because it was necessary for the basic function of the site.
2. Emailing the "Terms and Conditions" Changes
This is of an unusual practice. It's also a very rare jewel. Adult dating sites that usually ask you to either check the site as often as you can put all your responsibility on your back about investigating the changes. All they say is that they have the right to change the Privacy Policy and Terms and Conditions whenever they like, which it again comes to the same thing – you being accountable about what happens to the site. But Fitness-Singles.com guarantee (in line with good business practices) that they will keep you updated with everything that is happening, so that you know if you want to accept it or not.
3. Clear Communication Details
Another factor that contributes to the authenticity of Fitness-Singles.com is the full address and full contact details of the website. If you ever find contact details on casual hookup sites, they usually include a name of a contact person or a name of a company that is registered in an off-shore location. It is impossible to contact such companies, but this site includes genuine details and keeps itself open to any questions and requests by users.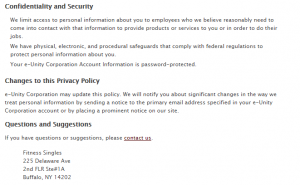 Price Tag
12-Month subscription is $9.99 per month
6-Month subscription is $14.99 per month
3-Month subscription is $21.99 per month
1-Month subscription is $39.99 per month
Busted or Trusted?
You definitely need to pay a bit more than the average price for a monthly membership. Get great savings by going for the annual membership. Maybe it's better to get that one and see what's going on with your dating prospects. For one year, you definitely know that this is the right site for you. However, we don't think that you will need to wait for that long on Fitness-Singles.com. If you're into athletic dating, this can be a great option to start your online dates.