While getting tricked in the real life is not so easy, being a scapegoat of an online scammer seems a hundred times easier. See here another one of my successful "arrests" where I evaluated the authenticity of ArousingDates.com, hoping to find a decent place for quick and fast sex that I can recommend to the readers.
Slowly as I did the check, I exposed the scam by this website, claiming to provide real dates while actually not giving anything more but a virtual (unreality) with non-existent users.
Authenticity
There is nobody at ArousingDates.com who will want to hook up. All those women you notice on the homepage? I doubt that many of them are real. All those promises for hookups?
I wouldn't want to have my hopes raised too high once I saw what are the operating methods of ArousingDates.com and how many of the features and the content are not doubtfully verified profiles or real content coming from genuine people who want to get laid and not from automated, computer-generated content. Not only that, but I also broke into some additional false claims by the adult dating website, finding out about the tricks used in the network associated with this site and on this list.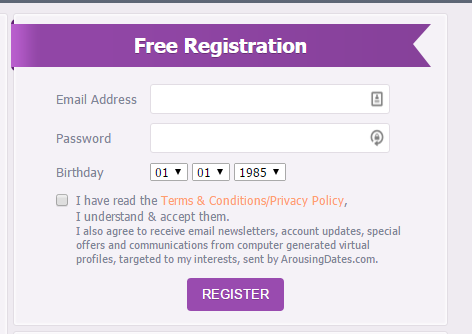 Why is ArousingDates.com a Fake Dating Site
How come I see the things I need to see? If you just approach the site with some clear sense and reasoning, and not with a hard on that takes away your focus (and yeah, the blood from your brain, too, down to your crotch) you will see the hoax behind that all nice and glittery surface. Here is ArousingDates.com exposed:
More expensive rebilling once the discount is over.
You may think that you are signing up for one subscription that will last until you click your next approval, but you have to be very careful, because your credit card is automatically re-charged and you can never be sure when will the discount end and whether you will know, be ready and able to say yes to the new offer. In addition, subscription rebilling is manages in larger lump sums, in chunks, so it will definitely be not only scratched but it can come down to being nicely bruised and cut. If you select the 3-month membership, it will be recharged again for three months at the end of the first period, then again, and again, until you remember that you need to take some action and are few hundreds lighter on your bank account.
Fake images used elsewhere on the web.
I went ahead to create my profile. I got a prompt that I am missing matches with my potential dates. In order not waste too much time I skipped the aimless browsing. I went to the core of the matter to see if I could get one of those "interested" babes into my bed for the weekend. There were some average-looking and some real model-like babes. I tried my luck with a few of them. First of all, I had to do my usual Google reverse search trick to see if I am in for a trick or for a treat. Surprise, surprise! I found my first match on a Youtube video tutorial and the second one on a medical website explaining surgery on a dislocated shoulder! This was the same photo scam with fake images from other Internet resources used to raise interest and encourage rip-off tricks.
This one is from the site: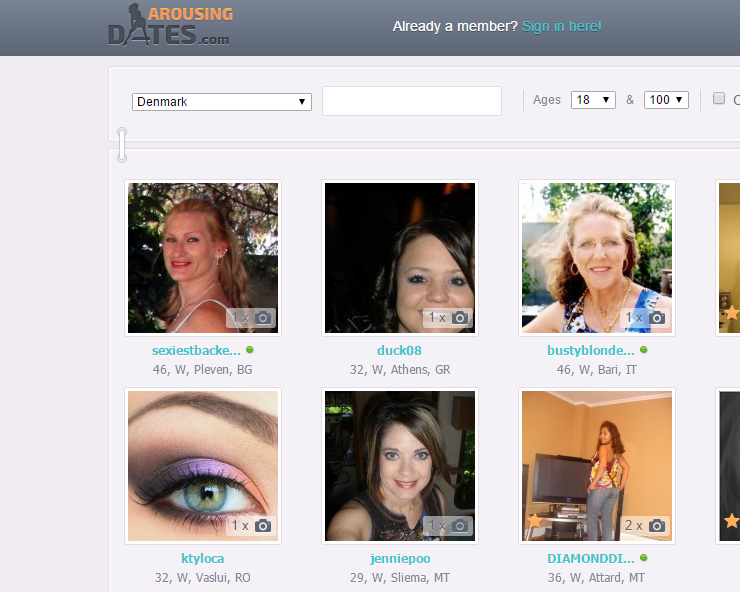 This one is from Google reverse search with over 25 million return results: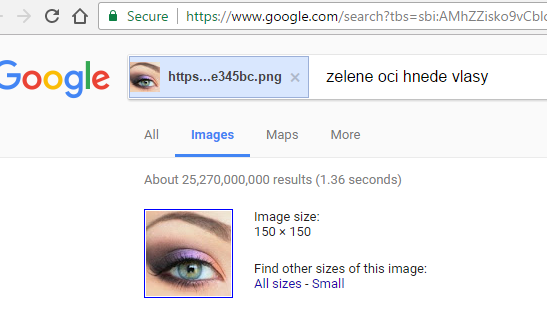 Computer-generated messages in the chat.
If you are hoping to get laid with a hot woman, this tactic by ArousingDates.com entices you to put your common sense on hold. You will start thinking that you have a chance to score instantly. My inbox was buzzing with messages. I noticed that none of the messages were coming from real profiles. Most of them used weird phrases that didn't work. They didn't seem to follow a natural flow of conversation. Instead, they sounded like a bunch of automated nonsense.
Cross profiles with another dating site.
What is another proof the ArousingDates.com is a real scam? Some of the girls have profiles on other dating websites. They are completely identical like a copy-paste thing. Although I admit that the same users can join as many sites as they want, no one actually sends the same messages or puts the same pics in exactly the same order. This is why all those identical profiles are fishy. They are not a credible proof of real women who want to have hookups.
Confusing contact details and instructions.
First of all, ArousingDates.com provides an official address filed. But the actual address is missing. Then it gives an email address stating confusing info about sending physical mail. That sounds very scammy – lost money in the mail? What an easy scam! Check for yourself the claim by ArousingDates.com: "Official address: ??? IMPORTANT: Do not mail anything to this address including checks, money orders or pictures. We do not process any of them and they will be lost! All your correspondence should go to support@arousingdates.com instead. Please mail any official documents to our support email address. If you insist on sending physical copies please use our Headquarters address." How can you get in touch with these people?
Price Tag
Nothing is really free.
Premium accounts at ArousingDates.com (automatic recurring and limited offer – pay attention):
6-Month rip off is $16.66 for a month and renews at $99.95 every 6 months

3-Month rip off  is $19.98 for a month and renews at $59.95 every 3 months  

1- Month rip off is $29.95 a month and renews at $29.95
Busted or Trusted
ArousingDates.com is all ripe for an arrest warrant. I busted their deception in many aspects. This was one of the most fruitful patrol rides because I collected useful practical knowledge about scams in fake site networks. It makes my job easier and leaves your wallets thicker.