I might be the most open minded individual that you will honestly ever meet. There's a reason why I run AdultDatingPatrol.com and it's because I'm honest and always open minded when it comes to trying new sites. Now, what's most funny about this is that the site I'm reviewing here today is called Openminded.com. I've done everything possible to wrap my head around this service and ultimately recommend joining or avoiding.
No reason to waste more time. Here's the full scoop of it all and what you need to know. Please do me a favor and do not join until you read this complete review.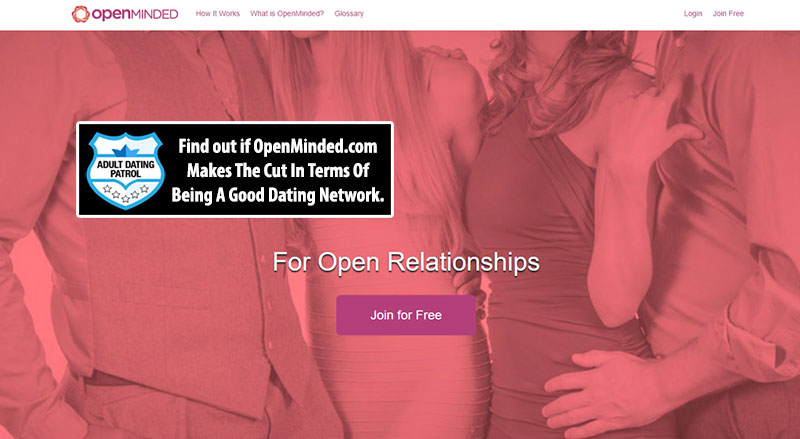 OpenMinded Review Reveals All The Details
Here's the scoop…
Open Minded aka Openminded.com is a really good site that serves people who want more than a traditional relationship. There are very few sites that cater to open relationships and this one does it right. They don't treat it as a fetish or sexual perversion.
They know that some people simply prefer to not get themselves tied down to one person. There's way too much to experience in the world to limit yourself. This place lets you explore that whether you're a veteran or a relative newcomer. You don't have to know exactly what you want; you just have to know that you're open to being open.
Joining The Site Was Easy Enough
The sign-up process for the site is really easy. You don't have to upload a picture if you don't want to. It allows you to remain anonymous while you check everything out. If you decide that it's not a good fit, you can simply shut down your account and you never have to worry about anything.
There will be no digital footprint to sneak up on you in the future. It's safe to use and the people who run it take your privacy very seriously. It's the best of all worlds in terms of features and safety.
Search Is Decent
The search function works perfectly and you'll never have to deal with bad results. You can really narrow down your search to exactly what you're looking for. From body type to eye color and family status, you can look for your perfect match.
The distance option will make sure that they're all very close and you'll never be surprised after you start talking to someone. You'll know where they are and you'll know how likely it is for you to actually meet up. It takes a lot of guesswork out of your searching and it saves you a whole lot of time and disappointment.
Members Are Great
The member base of the site is amazing. Everyone knows what they want and they want to go for it. Some are just checking out the scene while others are actively looking for someone to get together with. They're very open about what they want and never shy away from meeting new people.
You'll get a decent amount of messages as long as you put a good amount of work into your profile. While you can remain anonymous without a picture, you'll obviously have more luck with the more effort you put into filling it out.
Conclusion: This OpenMinded.com Network Might Be A Winner
If you're interested in an open relationship or are already in one, Open Minded is a great place for you. They've put a lot of time and money into the site and it works incredibly well. They won't try to scam you and they won't try to take advantage of you. They have a service to offer and they deliver on it. You should definitely check it out and see if it's for you.
The people there are very welcoming and they'll be able to introduce you to the world of open relationships. It would be difficult to lose with this site. Is it the best? Eh, I wouldn't go that far. I've got a ton of sites that I recommend here on my site. My advice would be to try this here before anything else. Then if you fail there, at that point give OpenMinded.com a shot.
Good luck!